Sauber Engineering announced that it has engineered and produced a custom high-end handlebar for the bicycle of German triathlete and 2017 Ironman World Champion Patrick Lange, which he will be riding at the 2018 Ironman Championship in Kailua-Kona, Hawaii, on the 13th of October. The name of the project is Project 101. Swiss Side collaborated with Sauber. This company is revolutionising aerodynamics in the cycling industry.
The specialists at Sauber Engineering designed a high-quality titanium structure. Using the advanced facilities and extensive experience in additive manufacturing, they also calculated and produced it. This way they created a low-weight race handlebar while not losing stiffness or strength. Furthermore, the engineers directly integrated functional features. Such is the cable routing for the gear shifter as well as fixation points for the cycling computer.
Meanwhile, the Sauber people manufactured customised pads as well. Their aim is to ensure a comfortable ride to the cyclist by supporting his lower arms. That happened through a whole different process. There was a scan of the cyclist's arms while he was in the seat and in a riding position. After that, the shape was imported into the CAD-system using the latest laser scanning technology.
The engineers created all parts using advanced calculation software to avoid any possible failure during the race. To verify the numerical results, they performed a full-scale stress test using static and dynamic load followed by computed tomography analysis to spot any damage.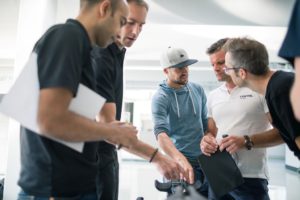 Christoph Hansen, Head of Technical Development Sauber Engineering:
"With Sauber Engineering's vast experience in design and production in the field of additive manufacturing in Formula One, it was possible to transfer our know-how to Project 101. Together with Canyon and Swiss Side, we have produced a highly engineered 3D-printed titanium handlebar for Patrick Lange, which will help him to achieve even better results."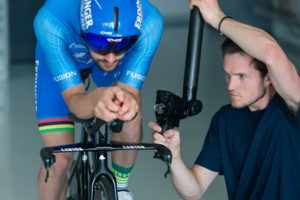 Patrick Lange, 2017 Ironman World Champion:
"While working on Project 101, we did something that has never been done before in triathlon. I am very proud to be part of this project. We tested my new aero cockpit in the wind tunnel and the results confirmed a significant performance improvement. This will have a direct impact on my bike-splits in Kona. I can't wait to show the world my new aero cockpit and deliver a strong performance on October 13th at the big race in Kona, Hawaii."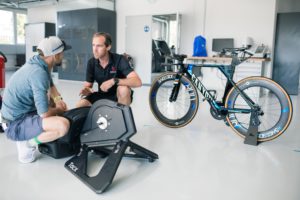 Jean-Paul Ballard, CEO and Co-Founder Swiss Side:
"Project 101 has been a synergy of the world's best in each of their respective fields. We have again brought the latest know-how and technologies, directly from Formula One to the cycling industry, to make not just marginal gains, but to deliver minutes of additional performance to World Champion Patrick Lange, with our combined goal to… #betherecordbreaker!"
How to make @patricklange1 even faster?
Project101 coming soon….@swisside @sauberengineering#aerodynamicsbyswissside #sauberengineering #CanyonSpeedmax #betherecordbreaker #kona2018 pic.twitter.com/buH8iqcr1h

— Canyon Bicycles (@canyon_bikes) September 25, 2018