Marc Marquez got a penalty after the qualifying for the Malaysian Grand prix but that did not seem to impress him. He took the 70th victory in his career and Honda took the 2018 Constructors' title.
"It was a hard race, first of all because I was starting from seventh place. I didn't get a perfect start, and then my first lap was good but not one of the best of my career. Step by step, I overtook some riders and got to second place. I saw that Valentino [Rossi] was pushing and I started to chase him, lapping at qualifying pace! But in the process, I overheated the rear tyre; the front was also warming up quickly and the feeling wasn't good. So for a few laps, I just tried to cool down and in so doing I began to feel better and better", Marquez explained.
Your #MalaysianGP podium ??

? @marcmarquez93
? @Rins42
? @JohannZarco1#MotoGP ? pic.twitter.com/upOQN2esa5

— MotoGP™??? (@MotoGP) November 4, 2018
"I saw I was getting closer to Valentino and honestly that gave me extra motivation. At that moment, it was just a matter of instinct and pushing, something that you can do when you've already got the Championship. Unfortunately, he made a little mistake in turn one, which is a shame as it would have been nice to see how the duel would have ended. Anyway, when I saw him crash, I just cooled down and focused on finishing the race. We won, and that was the best way to seal the Constructors Championship. I would also like to congratulate Jorge Martin and "Pecco" Bagnaia for taking Championships. We'll celebrate together in Valencia."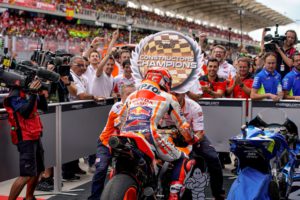 Marquez: That was the best way to seal the Constructors Championship
HRC president Yoshishige Nomura added: "We are very happy for this new Constructors World Championship. Two weeks ago, we earned the Riders title in Japan with an amazing performance from Marc Marquez. He has been so consistent and fast all the season. Today he won again and we took our seventh MotoGP Constructors Title out of the last eight seasons, and our third in a row. It's the 24th Premier Class Constructors crown for our Factory, which also tops the rankings as the most successful Manufacturer ever, with 68 Constructors Titles across all classes. Moreover, the numbers Honda has achieved are unprecedented in motorcycling racing: since 23 April 1961, when Thomas Edward Phillis took Honda's first ever win in Montjüic, our history has been filled with victories, having reached 750 across all classes with Cal Crutchlow's MotoGP win in Argentina this year."
The Repsol Honda Team packed up and flies back to Europe, where Marc will pay a visit to the Honda stand at the EICMA motorcycle show in Milan, Italy, on Tuesday before heading home to Spain.
Marquez masters Malaysia ?#MalaysianGP ?? pic.twitter.com/zLKxAmquWT

— MotoGP™??? (@MotoGP) November 4, 2018