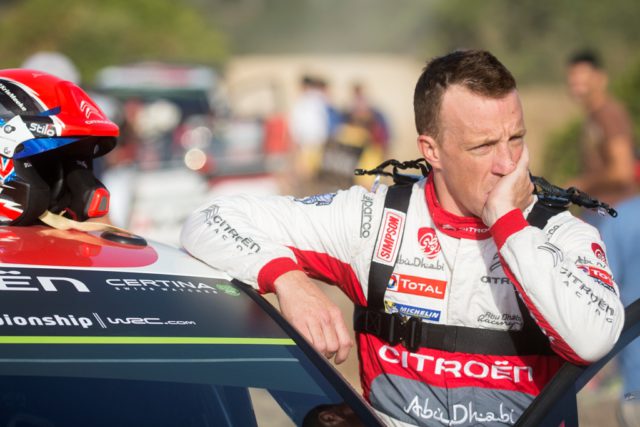 Citroen revised its line-up right after Rally Italia Sardegna. The team did not even release the usual drivers' comments. Instead of them, it announced that the three C3 WRCs for Rally Poland will be for Craig Breen/Scott Martin, Stéphane Lefebvre/Gabin Moreau, and Andreas Mikkelsen/Anders Jæger. The question now is if this will be the only rally that Kris Meeke will miss?
It was a very important weekend for Meeke as it was the first Mikkelsen's race with Citroen. He moved to the overall lead after winning the second stage, conceded it for a while and went back in front on SS4. Then everything changed when the №7 C3 WRC rolled on the next stage!
After losing almost seven minutes, the Northern Irishman made it back to the Alghero service park. However, when the car was examined by the Stewards, the roll cage was found to be damaged, meaning the team had no choice but to confirm Kris and Paul Nagle's rally was over.
MEEKE: Photos following @krismeeke's off on SS5 of @Rally_d_Italia 2017 ?? @CitroenRacing #WRC ? @MarcoForese pic.twitter.com/JRNipJIOZL

— RallyingUK ? (@RallyingUK) June 9, 2017
Craig Breen had already retired – he hit a rock after a heavy landing, which damaged the gearbox housing.
At the end of the rally, Andreas Mikkelsen was the only Citroen driver, who managed to finish
And he was the only one without a clear aim for the event.
"Before the start, we asked our drivers to make it to the end of the rally. I don't think we were wrong to think that if they managed to do that, we would end up with two cars in the top five", explained Yves Matton, Citroen Racing Team Principal. "Unfortunately, Kris was unable to adopt the pace required to have an error-free race. After the opening stages, he felt comfortable in the car and said that his pace was consistent with the targets set. Clearly, he has failed to maintain it."
"As regards Craig, his race was rapidly brought to a halt after he was caught out when landing a jump. His lack of knowledge of the stages proved very costly because it's a tricky spot that is well known to the more experienced drivers on this rally. Having said that, we have noted that his retirement was similar to the one he suffered in Argentina and we need to look at whether or not we can make the car more able to withstand this type of impact."
"Andreas' approach has been constructive and positive. Following the day of pre-event testing, we knew that the C3 WRC would need to be adapted to his driving style, which doesn't involve left-foot braking at all. Clearly, that takes time and so this rally became something of a prolonged test session. More than the actual result – eighth overall – we think we did some good work together. He managed to identify the points we need to work on first and foremost and to achieve some initial improvements."
Matton said also that after a series of disappointing results the team asked Kris Meeke to take a step back for the next rally
"Kris accepted that this would be in the best interests of the team and we'd like to thank him for his understanding", he continued. "This break will give him the chance to recharge his batteries and release some of the pressure before preparing for Rally Finland. He won in Finland last year after producing a perfect performance, so we hope he'll come back stronger. At the same time, this change in line-up means we can keep working with Andreas. This first experience was more like a test session than a proper competitive outing. A second rally will give him the chance to use the things he has already learned to get closer to the leading guys. Moreover, he is particularly fond of Rally Poland since he won the event last year."
Matton confirmed once again Citroen's support for the team's young drivers Breen and Lefebvre.
"They both took part in the 2016 Rally Poland and recorded decent performances. They will, therefore, have a good opportunity to show what they can do. Having said that, their main target will remain to get to the finish without making any mistakes."