Sébastien Ogier and Julien Ingrassia missed a golden opportunity during the weekend of Rally Turkey. The victory was twice within their grasp, but the World Champions were denied by a rare and costly mistake. The Frenchmen were on course to deliver a comeback of epic proportions. Having taken the lead on the first stage of Saturday morning (SS8), drama ensued when they completed the following speed test (SS9) with damage to the suspension of their Fiesta.
With one stage left to contest before service, it was a race against time to affect a temporary repair on the side of the road. The Frenchmen got to work and two of the championship's most skilled mechanics stopped to offer advice – teammate Elfyn Evans as well as lovable rogue Henning Solberg.
Ogier too is a skilled technician and proved the effectiveness of his repair by setting the fastest time through the stage!
Returning to service, the M-Sport mechanics changed the transmission and full front suspension in just 30 minutes, Ogier and Ingrassia were back out for the afternoon loop – albeit in fourth place 46.1 seconds adrift of the lead. But their performance was at such a level that they looked set to retake the lead on that very first stage.
It wasn't to be, and all of the hard work was undone by the rarest of mistakes. Mishearing a pacenote, the Frenchman slid wide – his Fiesta stuck off the road along with all hope of an extraordinary victory.
Completing the event in tenth place, Ogier also secured an additional four points from the Power Stage. The Frenchman has fallen to third place in the championship, but there remains all to play for as he remains just 23 points shy of retaining his crown.
"It's been a frustrating weekend, but that's part of the game and we have to accept it. I gave it everything I had and did everything I possibly could without reward. At least we secured some points at the end of the rally and hopefully, we will get some rewards soon! It's definitely a three-way fight for the title now, and it's still all to play for", Ogier commented.
"Bien entendu, ça n'est pas ce qu'on voulait ce week-end, mais avec encore 3 rallyes à disputer, il peut se passer beaucoup de choses" #RallyTurkey #WRC pic.twitter.com/h5ZWvVQS47

— Sébastien Ogier (@SebOgier) September 16, 2018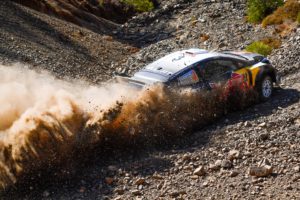 Meanwhile, Teemu Suninen and Mikko Markkula delivered another impressive performance – securing a highly commendable fourth place overall
Tackling what is undoubtedly the roughest gravel rally of his career, Suninen showed once again what a notoriously quick learner he is. Opening the road throughout the weekend, he had to contend with the worst of the loose gravel.
"This was definitely the roughest rally I have ever done so to finish fourth is a great result for me. It's the second best result of my career, and I can be happy with that. It was also nice to reward the team with some good points because they all really deserved that this weekend", Suninen said.
"On Friday we set a really good time on the long stage [SS5] and it was positive to see that we were only two seconds away from the fastest time. Saturday was really difficult with all the loose gravel and honestly, I couldn't do much more with all the wheelspin – but I hope that will be good practice for the future!"
Our time on final stage (SS17) was 5.12,1. That means fourth place for us which is a nice result. I can be happy about our result in Rally Turkey. Learned a lot about the rough conditions. pic.twitter.com/LTRa3nj6Wo

— Teemu Suninen Racing (@TeemuSuninenRac) September 16, 2018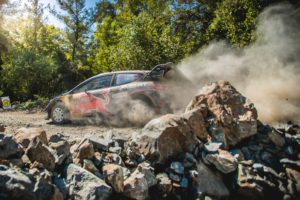 Elfyn Evans and Daniel Barritt had to endure their fair share of bad luck at Rally Turkey
But the luckless Brits fought back admirably and displayed team spirit throughout the entire weekend. When Ogier and Ingrassia were stopped on the side of the road with a broken wishbone, Evans and Barritt came to their aid with advice and encouragement.
The Welshman is one of the most skilled technicians in the service park, and when all available mechanics were needed to work on Ogier's car, he and Barritt even serviced their own – Evans helping to change the wishbone and his co-driver adjusting the ride height.
Recovering from Friday's retirement, the pairing showed great speed and had climbed back up to seventh place overall before demonstrating their dedication to the team once again.
Checking into the penultimate stage five minutes early, they incurred a five-minute penalty to give teammate Ogier an additional championship point that could prove vital at the end of the season.
"It was a frustrating Friday with a lot of different issues which eventually resulted in retirement when striking a rock on the line which couldn't be avoided. We had a pretty solid day on Saturday and were able to show good pace whilst keeping out of trouble. But we had to drop time and assist Sébastien with his championship defence", Evans explained.
? Overall after SS17:
4th @TeemuSuninenRac (+4:10.9)
6th WRC @SebOgier (+20:51.2)
7th WRC @ElfynEvans (+22:09.0)#WRC #FordPerformance #RallyTurkey

— M-Sport (@MSportLtd) September 16, 2018