Team Germany are celebrating a record seventh win in the ROC Nations Cup after Sebastian Vettel took a stunning victory all by himself at Miami's Marlins Park.
Vettel represented Team Germany by himself due to Pascal Wehrlein's withdrawal from the action following his accident on Saturday. This was a similar situation to the ROC Nations Cup in Paris in 2006 when Travis Pastrana had to represent Team USA on his own. On that occasion Jimmie Johnson injured his wrist just three days before the event. Then his replacement Scott Speed was injured in F1 testing at Spain's Jerez circuit the day before the race.
In the end Vettel went through the entire day's action unbeaten, but he had to see off the might of Team USA NASCAR's team of Kyle and Kurt Busch in the final. The two American brothers had a fantastic afternoon's work too, winning a series of tight battles on the unique track but they couldn't match the German.
Vettel said: "The Race Of Champions is a great competition, but I went out very early [in the individual competition]. So I wanted to make sure I didn't leave the States empty-handed. I started on the wrong foot but it helped me to take it a bit more seriously. After that I just wanted to get some more time on the track. I found the rhythm straightaway and it felt pretty good. I got along with all the cars. But that's the way it goes: sometimes you wake up and it works, sometimes it doesn't. It obviously worked out well but of course it would have been nicer to share this victory with Pascal."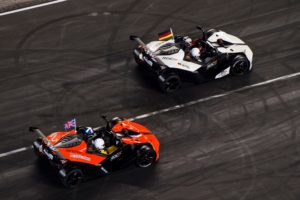 Sebastian Vettel "It would have been nicer to share this victory with Pascal"
Kurt Busch added: "This was a fantastic day and I've thoroughly enjoyed it from the beginning to the end. As the NASCAR team we definitely wanted to advance out of our group ahead of the IndyCar guys and Rally X guys. So to win some rounds and advance was great. When you get into that rhythm, that's when you start to feel the flow of ROC. It was a tremendous pleasure and an honour to go out there and race for the United States along with my little brother Kyle. It was a great atmosphere so thank you to Fredrik Johnsson and the ROC team."
Kyle Busch said: "This was a great treat. I had a super time, it was a lot of fun. To be teamed up with Kurt and beat some of these guys from around the world in different cars was very exciting for me. I got beaten up by Vettel and Coulthard. I guess those are two pretty good guys to lose to. But I think I beat everyone else I was up against. I had a lot of fun and I enjoyed the experience. So I'd love to be invited back and go to another Race Of Champions somewhere."
Sebastian Vettel single-handedly wins the #ROCMiami Nations Cup for #TeamGermany #unbeaten https://t.co/gARg8IWwHn

— Race Of Champions (@RaceOfChampions) 22 January 2017