The development of Rapide E is progressing apace and Aston Martin has confirmed a raft of technical details. The luxury brand's first all-electric production car will be in a strictly limited 155-unit special edition.
Aston Martin is working closely with Williams Advanced Engineering (WAE) as its development partner. The two companies kickstart a new era for Aston Martin's powertrain technology. They do it by overcoming the technical challenges associated with packaging the battery system and motors within the space available.
The engineering team have focused on achieving effective cooling of the batteries and motor to ensure consistent performance
Meanwhile, they observed strict weight targets. The team used lightweight alloys and carbon composite materials.
The power will come from an 800V battery electrical architecture with 65kWh capacity. It uses over 5600 lithium ion 18650 format cylindrical cells. These are in a bespoke battery pack where was the place of the original 6.0-litre V12, its gearbox and fuel tank. This battery system powers two rear electric motors producing a total target output of just over 610PS and a colossal 950Nm of torque.
The range target is over 200 miles. Rapide E is capable of charging at a rate of 1851,2 miles of range per hour using a typical 400V 50kW charger. However, the car's 800V high-voltage battery system enables faster charging of 3101,2 miles of range per hour. That is possible by using an 800V outlet delivering 100kW or higher.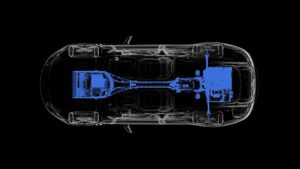 Being an Aston Martin, the Rapide E has a high-performance objective
Engineers project a top speed of 155mph. Acceleration from 0 to 60 mph will be under 4sec while the 50-70mph time would be just 1.5sec. These figures do not have the restriction of a full charge. Instead, the target is for maximum performance on-demand throughout the majority of the battery state of charge window. This includes the ability to drive a full lap of the Nurburgring with absolutely no derating of the battery. It also includes the ability to cope with the daily demands of repeated hard acceleration and braking.
The car's exterior and underbody has also went through aerodynamic optimisation. The newly-designed aerodynamic wheels complement the whole feeling. Rapide E has Pirelli P Zero with a lower rolling-resistance and reduced cavity noise, while still delivering superior dynamic capability.
It has also been an objective of the project to retain and enhance the feel, character and delivery of Rapide S' V12 engine. That is why the engineers will pay careful attention to the development and tuning of both the electric powertrain and the chassis. They will apply particular focus applied to software integration.
There will be a strictly low number of the Rapide E but still, it will undergo Aston Martin's stringent and exhaustive testing protocols
The WAE team is working closely alongside Aston Martin personnel to ensure every aspect of the prototype test programme follows the marque's procedures. Uniquely, customers will take part in an ongoing Rapide E programme. Their comments and driving experiences will provide an invaluable stream of feedback that will help shape and improve future Aston Martin EVs.
In addition to WAE, the Rapide E programme has other partners as well. There's Hyperbat Limited – a new joint venture company between Williams Advanced Engineering and Unipart Manufacturing Group – as the battery manufacturer as well as Integral Powertrain for the electric motors, Xtrac for the transmission and the H1PERBAT project consortium with grant funding from the Advanced Propulsion Centre.
Speaking of the Rapide E programme, Andy Palmer, CEO Aston Martin, commented:
"Environmental responsibility and sustainability is a global challenge faced by us all. As a career automotive engineer, I'm proud that the car industry is leading the way in finding long-term solutions and reducing harmful emissions. As Aston Martin's CEO, I take particular satisfaction working to bring Rapide E to reality. Rapide E will fast-track our knowledge. Rapide E will also serve as a critical step on our path to re-launching Lagonda as the world's first zero-emission luxury marque".
The production of the car will be at the upcoming St. Athan production facility. This will be the future 'Home of Electrification' for both the Aston Martin and Lagonda brands. Aston Martin is accepting expressions of interest via its global dealership network, with pricing available on application. The plan is for customer deliveries in Q4 2019.