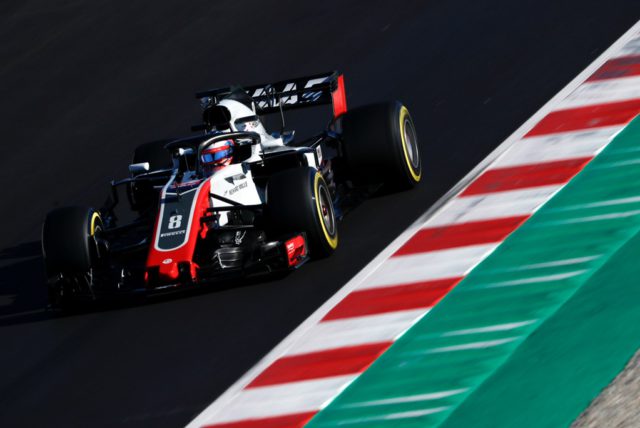 Romain Grosjean added his own piece of history in Australia when he finished sixth in the 2016 Grand prix at Albert Park. That was Haas F1 Team's first race, and it stands as the best debut for any Formula One team since 2002 when Mika Salo finished sixth for Toyota, also at the Australian Grand Prix.
In 2016, Haas F1 Team was starting from scratch, and that had its own unique challenges. To get ready for 2017, the team had to race its 2016 car while simultaneously developing the 2017 car. It's what every Formula One team does, but that was Haas F1 Team's first time doing so. But considering how every team improved for 2018 and none seemed handicapped in terms of engine and chassis design, do you envision 2018 being Haas F1 Team's most challenging season yet?
"No, I don't think so. I think 2017 was our most challenging season due to the change in the regulations. I think for 2018, we've prepared very well, and early on. I'm hoping we've done a great job. Obviously, we're going to see from the first races where we are, then try and keep up the development. I think this year's a bit more straightforward."
Haas F1 Team tested at Circuit de Barcelona – Catalunya for eight days over a 12-day span. How did it go and how did it prepare you for Australia?
"Testing went pretty well. The first week was challenging with the weather conditions. The second week we worked very well. We did some great laps and worked through the program we wanted to do, which was great. I think that's the best we could prepare for the season. Obviously, every track is different, and we're going to face different temperatures and things like that, but we've done as much as we could."
How would you describe the VF-18?
"The VF-18 has a very good baseline. The feeling I get in the car is very good, which is the main thing. It's a good-looking car. We know where we can update it and try to get more performance from it. We're going to work on that. I think it's the best car we've had so far for Haas F1 Team."
The weather in Barcelona impacted the amount of time you got on the racetrack. While it was the same for everyone, how did it impact your planning and the data you wanted to acquire?
"The more time spent in the car, the better it was. Muscle-wise, you train all winter long and your muscles are not used to getting the loading from the F1 car. So, the more seat time you get, the better it is, and you can then try more things as well. Again, there was nothing we could do about the snow, the cold weather or the rain. I still feel like we're ready to go and enjoy Australia."
This year's car is an evolution of last year's car, with the intent being to make it more consistent. Whether it was with aero balance or mechanical balance, do you feel the car has the kind of consistency you're looking for?
"I think it has a good consistency and a very good platform that all of us, as drivers, want."
While everyone seemed to have an opinion about the halo as each team introduced its new car, by the end of the test it all seemed pretty normal. Was it much ado about nothing, or did the halo take some getting used to?
"Driving-wise, I got used to the halo quickly, in a lap or so. Jumping in and out of the car is a bit more tricky. The visibility may be less good, but anyway, it's on the car and we've got to live with it."
Reliability is always important, but how crucial is it early in the season, and especially at the first race, where you can capitalize on another team's teething problems as opposed to when we're deeper into the season and teams have a pretty good handle on their race cars?
"Early on in the season, it's really key to get reliability. It allows you to get results you maybe weren't expecting. Hopefully, that's going to be on our side, then we can score quite a lot of points early on and stay in the fight for a good constructors position."
Haas F1 Team has run well in its two Australian Grands Prix, with a sixth-place finish in 2016 and a double-points finish in the offing last year before suffering a double DNF late in the race. Is the speed you've shown out of the box a testament to caliber of people working at Haas F1 Team?
"It's great that we've done very well in Australia over the last couple of years. It shows that the car has been well built and ready to go. Hopefully, that's the same this year, then we can put on some performance during the season and keep up the development."
Haas F1 Team's debut in the 2016 Australian Grand Prix was pretty remarkable, with your sixth-place finish the best debut for any Formula One team since 2002 when Mika Salo finished sixth for Toyota, also at the Australian Grand Prix. Can you describe that moment and what it meant to you and the team?
"It meant a lot. It was a result we were clearly not expecting after a tough qualifying. We had a brilliant race. When we took the checkered flag, for us, it was clearly as good as winning the race. It was fortunate but perfect."
St Kilda Beach, one of my favorite place of the season to chill out and have a coffee after a nice ride! ?️?☕#r8g #ausgp #melbourne pic.twitter.com/7eBG4zr5jH

— Romain Grosjean (@RGrosjean) March 20, 2018
How important is it to start the year with some point-paying finishes, as it can give the team some cushion for the rest of the season when some of the bigger teams further develop their cars?
"The more points we have early on, the more chance we have to get a high score at the end."
What is your favourite part of the Melbourne Grand Prix Circuit?
"I love the backstraight with the high-speed corner – turns 10 and 11."
Explain a lap around the Melbourne Grand Prix Circuit, especially now after having competed there with the faster, current-generation car.
"Turn one is one of the really big differences in the current-generation car. You carry much more speed into turn one in Australia. Then, in sector two, you have the high-speed chicane through (turns) 11 and 12 and you've got much more downforce than before. Finally, in sector three, at turn 14, it's almost flat through the right-hand corner, whereas in the past you were braking, and it changed the way you approached the next corner."

Finally, it's race week!! #r8g #f1 #Melbourne pic.twitter.com/AAsMnJ38eS
— Romain Grosjean (@RGrosjean) March 19, 2018