Williams Lance Stroll finished P10 and Sergey Sirotkin – P11 in the Italian Grand Prix bit later they both gained a position due to Romain Grosjean's disqualification. This meant the first point for Sirotkin.
"It was a good job by the team and by the drivers, not least to get two cars home in a race that can be very tough, but also, we were really racing", said Chief Technical Officer Paddy Lowe. "Well done to the drivers, and to the team at the circuit and back at base. We've been making a lot of developments behind the scenes and I think some of these positive steps are starting to come into play."
"Feeling good is an understatement", Stroll added. "I hoped we would score points, but I didn't really expect it. We didn't expect we would have the pace to stay there, but we did. We were following [Carlos] Sainz all race and were catching him a little bit towards the end. So I am really happy with the job we did today and all weekend. We really nailed it this weekend in qualifying, the race and with the strategy."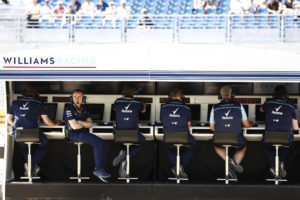 Lowe pleased with Williams performance at Monza: We were really racing
"It was one of those weekends where it all just came together. The key was just solid work all weekend and everyone in the team played their part. I think this track suited us, but I am still going to be positive going into Singapore, as there last year we had pretty poor pace in qualifying, so qualified 18th, but finished eighth. There are always opportunities."
Did someone say… double-points finish? ?

With Grosjean disqualified, Sergey takes P10 and his first point of the season, with Lance scoring two points in P9 ?

That will make the boss happy this morning ?#ItalianGP #F1 pic.twitter.com/1uKQ8dbvKa

— WILLIAMS RACING (@WilliamsRacing) September 3, 2018
Sirotkin said after the race that it was good but not good enough. That was before he knew that he had taken his first F1 point.
"I enjoyed the fight and how the car felt pleased me. It allowed me to participate in a good fight and I really enjoyed it", the Russian driver explained.
We caught up with Sergey back at the factory after he scored his first F1 championship point with tenth place at the Italian Grand Prix ? ?? pic.twitter.com/iYHOjhWa36

— WILLIAMS RACING (@WilliamsRacing) September 4, 2018