Honda unveiled its Cooperative Mobility Ecosystem concept at CES 2017 in Las Vegas. It connects the power of artificial intelligence, robotics and big data to transform the mobility experience of the future and improve customers' quality of life. The Honda concept features a number of prototype and concept technology demonstrations at CES. It envisions a future where vehicles will communicate with each other and infrastructure to mitigate traffic congestion and eliminate traffic fatalities. The concept will increase the productivity of road users. It will also deliver new types of in-vehicle entertainment experiences. Vehicles will create new value by providing services autonomously when not in use by their owners.
Honda also announced technology collaborations with Visa, DreamWorks Animation and innovative start-ups through the Honda Developer Studio and Honda Xcelerator open innovation programs based out of Honda Silicon Valley Lab.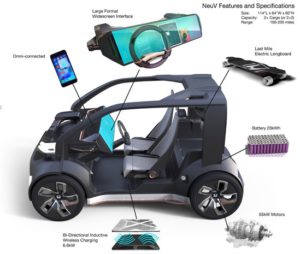 Honda unveiled the Honda NeuV, an electric automated concept car. The model is equipped with an artificial intelligence (AI) 'emotion engine' and automated personal assistant, creating new possibilities for human interaction and new value for customers.
The concept vehicle NeuV (pronounced 'new-v') stands for New Electric Urban Vehicle. Its base is the fact that privately-owned vehicles sit idle 96 percent of the time. The NeuV explores the idea of how to create new value for its owner. The concept is to achieve it by functioning as an automated ride sharing vehicle, picking up and dropping off customers at local destinations when the owner is not using the car.
"We designed NeuV to become more valuable to the owner by optimising and monetising the vehicle's down time," said Mike Tsay, Principal Designer, Honda R&D Americas.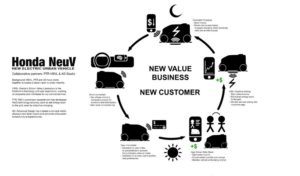 NeuV also functions as a thoughtful and helpful AI assistant utilising an 'emotion engine'. Called HANA (Honda Automated Network Assistant), in its application in the NeuV, the '"emotion engine'" will learn from the driver. It will detect the emotions behind the driver's judgments. Then, based on the driver's past decisions, it will make new choices and recommendations. HANA can check on the driver's emotional well-being. It can aslo make music recommendations based on mood, and support the owner's daily driving routine.
The Honda NeuV features a full touch-panel interface enabling both the driver and passenger to access a simple and convenient user experience
The vehicle has two seats, a storage area in back, and an electric skateboard for 'last mile' transit. The NeuV also features outstanding outward visibility via a wrap-around panoramic windscreen. A dramatically sloping belt line makes manoeuvring easy.
The global mobility company also revealed the Honda Moto Riding Assist. That is a concept motorcycle that applies Honda's robotics technology to maintain balance. Visitors to Honda's exhibit can experience Honda robotics technology firsthand by 'test driving' the UNI-CUB, which is the company's self-balancing personal mobility device.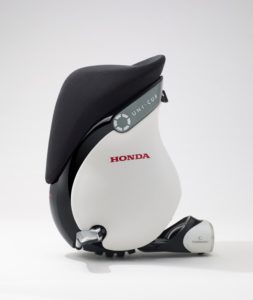 "Since our founding, Honda has focused on creating technologies that help people," said Yoshiyuki Matsumoto, President and CEO of Honda R&D Co., Ltd. "Our goal is to showcase a future technology path that results in a redefined mobility experience."