The Toyota World Rally Team is celebrating victory on home soil on Rally Finland after Ott Tanak sealed a hugely impressive win by setting the fastest time on the Power Stage. Jari-Matti Latvala clinched third place to give the team a fantastic double podium.
Tanak carried an advantage of 39 seconds into the final day of the rally, which consisted of two runs over the Laukaa and Ruuhimäki stages. After a careful approach to the first three stages, Tanak then claimed his 12th stage win of the weekend on the Power Stage (gaining five bonus points) to finish up 32.7s clear overall. He and co-driver Martin Järveoja celebrated at the finish on the top of their car together with Team Chairman Akio Toyoda and Team Principal Tommi Mäkinen.
The result moves Toyota to within one point of second place in the manufacturers' standings, and closes the gap to the top to 27 points. In the drivers' standings, Tänak remains third but has closed up to the top two drivers.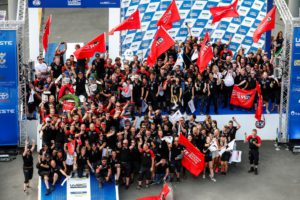 Akio Toyoda (Team Chairman)
"There is no happier feeling than to take victory in our home rally. I really appreciate all of our team members for bringing this excitement to us. I can sense that all our drivers seem to really enjoy driving on their home roads, even from my viewpoint beside the stages. The roads of Finland have helped us to make the Yaris WRC better for our drivers and help them really enjoy the driving. I really appreciate that I could enjoy this happiness in person and see the view from the top of the podium. Thanks to everyone in our team. I know Finland, where Tommi Mäkinen Racing is located, is also our tram's home."
"However, it's the first time for me visiting here since we came back to the WRC"
"I never saw so many people supporting Toyota with their passion and enthusiasm. This helped give me the actual feeling that this place is our homeland. The special stages are also full of TGR's flags and the fans waving the national flags of Finland and Estonia with the chants of "I love TOYOTA! I love Yaris". The huge "Welcome to my home roads" billboards are hanging up in the roads. The burger shop staff are wearing T-shirts with the TGR logos. I have got to see how the hometown people welcomed us in our second year after 17 years' break from WRC. And I have got to see how wonderful it is to take the victory in our hometown rally."
"We also received numerous greetings and cheering from all over the world. I'd like to express our appreciation to all of the fans supporting TGR. We still have a long way to go in this season. I am looking forward to many more sights of countless Estonian, Finnish and Japanese national flags being flown. Our team will continue making our every effort to achieve this goal. We expect your consistent support. For now, we don't have a WRC event in Japan. When I looked up to the sky from the podium, I imagined another view of the three national flags mentioned above flying in our other home Japan. I strongly hope again that we could see this day."
Throwback to this amazing moment when @OttTanak and @MartinJarveoja arrived to team service area. ?#TOYOTA #YarisWRC #RallyFinland #WRC #Winners #Rallying #TGR_WRC @TOYOTA_GR @RallyFinland pic.twitter.com/Z6ReWU6KAW

— TGR_WRC (@TGR_WRC) July 31, 2018
Tommi Mäkinen (Toyota Team Principal)
"What a weekend, and what an end to the rally. It was an absolutely spectacular moment, especially with Ott managing to win the last stage. It has been an incredible drive from him. Jari-Matti's battle for second was fantastic too, going right down to the last stage. He had to settle for third in the end but I am generally very happy with the result here on our home event."
Jari-Matti Latvala (Driver car 7)
"I gave everything today to try and get second place. It was a great fight. It really helps with the confidence when you fight as hard as this and you can keep everything together and not make mistakes. To be back on the podium after quite a long time feels really good, and especially to do it here in Finland. Together with the victory for Ott, this was a really important result for the team."
Ott Tanak (Driver car 8)
"It has been a perfect weekend. Everything worked as we wanted. On Friday we had a really big job with our road position, and after that, we could just increase our advantage. We had the perfect preparation and full support from the team. If you work together as one then these kind of results are achievable. To win in Finland is definitely special. It's kind of a home rally for me and it's the home rally for the team. To win in front of all this support is incredible."
To win in Finland is definitely special. It's kind of a home rally for me and it's the home rally for the team.

? Thank you team!
? Thank you family!
? Thank you fans!

This victory belongs to all of you! Let's celebrate now!?#RallyFinland #GoOtt #TanakFanArmy #WRC #Toyota pic.twitter.com/e4oUVkKhww

— Ott Tänak (@OttTanak) July 29, 2018
Esapekka Lappi (Driver car 9)
"Unfortunately my rally ended pretty soon after we started on Sunday. The car felt really good, it was just my mistake. I went a little bit too wide, dropped a tyre into the ditch and hit a tree stump, which sent us spinning. The start of this rally was already tough for us, and although Saturday went much better, it has been a disappointing weekend for me. However, congratulations to the team, to Ott and to Jari-Matti for their results."