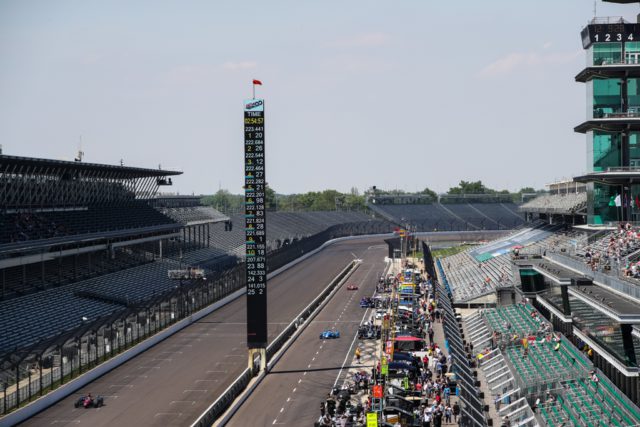 His new teammate may be grabbing worldwide attention for his appearance in the Indianapolis 500 presented by PennGrade Motor Oil, but it was Marco Andretti who snatched speed honors on the opening day of practice for the 101st running of "The Greatest Spectacle in Racing."
Marco Andretti set the pace in the No. 27 United Fiber & Data Honda with a lap of 226.338 mph as 32 cars turned 1,306 laps on the 2.5-mile Indianapolis Motor Speedway oval in preparation for the world's largest single-day sporting event May 28
It is the second straight year that Andretti has been fastest on the first day of Indy 500 practice.
"Speed is always good," said the 12th-year Verizon IndyCar Series driver, who finished second at the Indy 500 in his rookie year of 2006 and third three times since. "That's the first thing you always want here because then you can really put more focus on just getting a comfortable race car, which is obviously my plan the rest of the week.
"They give points for qualifying now, so we can't just totally ignore it, but my goal is to win the race. It's good to know that we're rolling off with some sort of speed. From there we just need some comfort."
Scott Dixon, the four-time Verizon IndyCar Series champion and 2008 Indianapolis 500 winner, was the only other driver to top 225 mph with a lap of 225.296 in the No. 9 Chip Ganassi Racing Honda. Two-time Indy 500 pole sitter Ed Carpenter ran third with a lap of 224.969 mph in the No. 20 Fuzzy's Vodka Chevrolet.
The six-hour practice session started with two hours set aside for the rookie orientation program and refresher tests for veteran drivers who have been out of the cockpit for a while. Dale Coyne Racing's Ed Jones (No. 18 Boy Scouts of America Honda) was the lone rookie to complete the three phases of rookie orientation, while Jay Howard (No. 77 Lucas Oil/Team One Cure Schmidt Peterson Motorsports Honda), Sebastian Saavedra (No. 17 AFS Juncos Racing Chevrolet) and Oriol Servia (No. 16 Manitowoc Rahal Letterman Lanigan Racing Honda) finished both phases of the veteran refresher.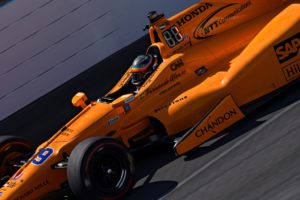 Fernando Alonso, the two-time Formula One champion making his Verizon IndyCar Series and oval track debut at this year's Indianapolis 500, completed his rookie orientation in a private test at Indianapolis Motor Speedway on May 3
The 35-year-old Spaniard, a teammate to Marco Andretti in one of six Andretti Autosport entries, began the methodical process of getting up to speed by completing 55 laps in the No. 29 McLaren-Honda-Andretti Honda with a best circuit of 223.025 mph.
Top shots from today's #Indy500 Practice 1 so far. That papaya really lights up under the Indy sun. ? pic.twitter.com/va6ibxkdfh

— McLarenHondaAndretti (@McLarenIndy) 15 May 2017
"Everything went very smooth," Alonso said. "We had some issues with the rear suspension and we could not complete the program that we were planning to run a little bit in traffic at the end of the day, so we missed that part, but overall it was an amazing day."
"Happier than the first day (May 3) with the car because I was able to feel some of the setup changes that we were planning in the morning. Yeah, I feel good. … No big issues, no dramas, so a very, very positive day."
The only incident of the day came with two hours left in the session, when rookie Jack Harvey's No. 50 Michael Shank Racing with Andretti Autosport Honda made contact with the SAFER Barrier in Turn 2
Harvey, who had completed the first of the three phases of rookie orientation, was uninjured but the car sustained right-side damage and did not return to the track.
"It's been a pretty challenging day for what was meant to be an easy process," Harvey said. "We had some issues this morning, but we had managed to work through them. I don't know what did happen apart from I went to turn in and it went straight. I was coming out of the pits, I wasn't even going fast and probably not even going 100 mph – so bizarre."
Rookie orientation practice results