The Hungarian Grand prix is the 12th round of the 2018 Formula 1 world champion
Total number of race laps: 70
Complete race distance: 306.630 kilometres (190.531 miles)ship.
Pit lane speed limit: 80 kph (50 mph)
This 4.381-kilometer (2.722-mile), 14-turn circuit has hosted Formula One since 1986, with last year's Hungarian Grand Prix serving as the venue's 32nd grand prix
Michael Schumacher holds the race lap record at the Hungaroring (1:19.071), set in 2004 with Scuderia Ferrari.
Sebastian Vettel holds the qualifying lap record at the Hungaroring (1:16.276), set last year with Scuderia Ferrari during Q3.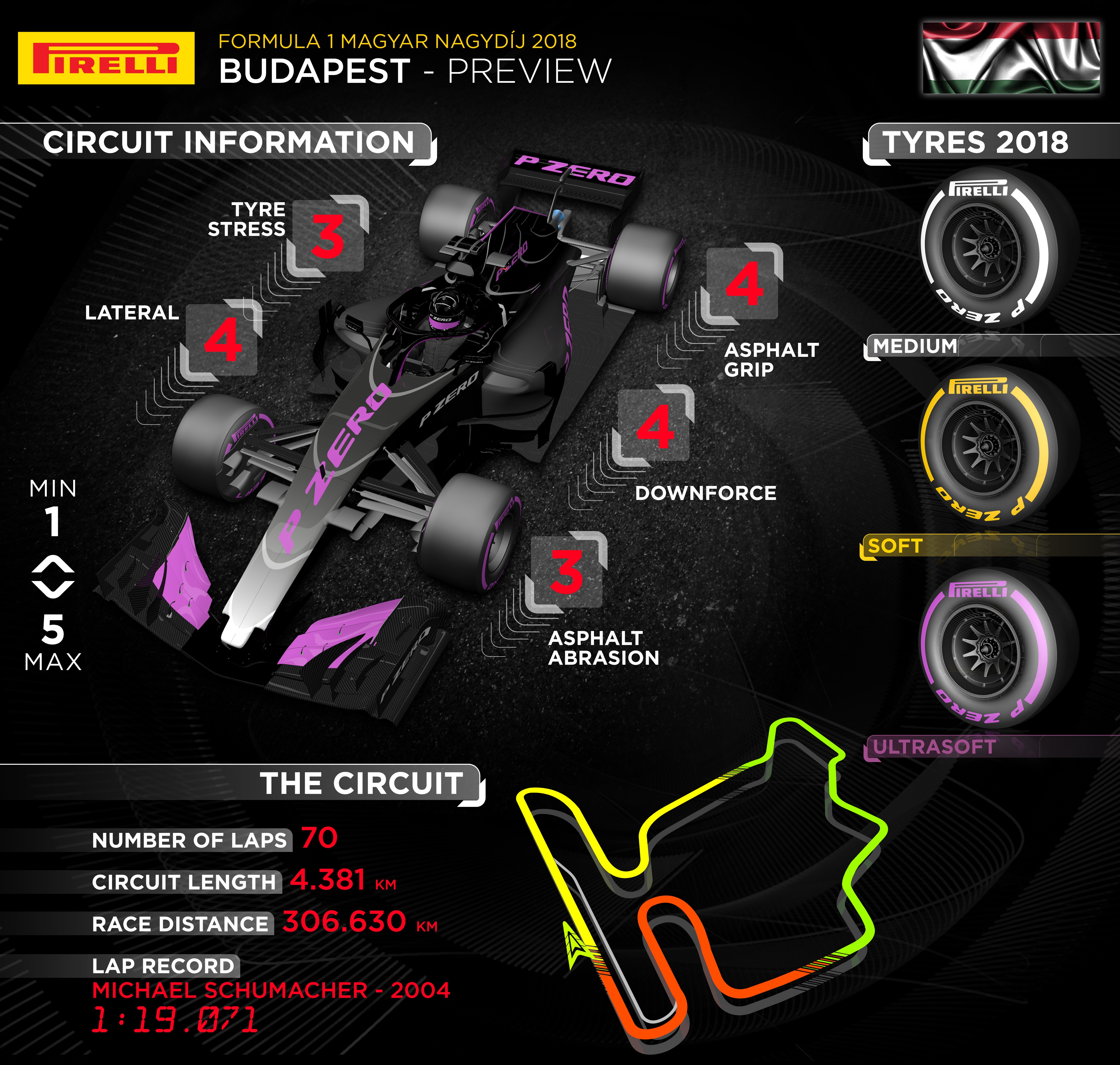 With an average speed of just 200 kph (124 mph), the Hungaroring is the slowest permanent circuit on the Formula One calendar
The track has 14 corners and few straights, which puts increased emphasis on downforce and mechanical grip. Likened to Monaco or a full-sized karting circuit, the Hungaroring offers few overtaking opportunities, meaning qualifying is of utmost importance. But if not at the front, drivers can attempt to emulate Jenson Button's performance in the 2006 Hungarian Grand Prix. Then he drove from 14th to first. In today's era, that kind of tenacity needs the aid of tire strategy, for it is a key cog in a driver's upward climb.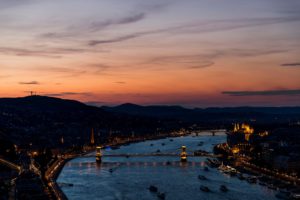 Tire management is a crucial part of that strategy as the Hungaroring is incredibly tough on tires
Typically, hot weather combined with a high amount of traction, braking and lateral energy demands work the tires and the driver hard. However, these forces are all relatively equal, meaning the requirement is for a neutral setup. An extreme level of fitness is required for the drivers, who are seemingly always turning the wheel amid high temperatures with scant amounts of air flowing through the car.
DYK? During construction of the Hungaroring in 1985, a spring was discovered just after turn three. Engineers were forced to add a chicane, diverting the track's layout around the spring. The first three Hungarian Grands Prix were run on this configuration. Engineers developed a culvert for the stream in 1989, allowing a direct route between turns three and four.
During the course of the Hungarian Grand Prix, lows will range from 20-21 degrees Celsius (68-69 degrees Fahrenheit) to highs of 30-31 degrees Celsius (86-87 degrees Fahrenheit)
Relative humidity ranges from 45 per cent (comfortable) to 90 per cent (very humid), with a dewpoint varying from 11 degrees Celsius/51 degrees Fahrenheit (very comfortable) to 16 degrees Celsius/61 degrees Fahrenheit (comfortable). The dew point is rarely below 6 degrees Celsius/43 degrees Fahrenheit (dry) or above 20 degrees Celsius/68 degrees Fahrenheit (muggy). Typical wind speeds vary from 0-24 kph/0-15 mph (calm to moderate breeze), rarely exceeding 39 kph/24 mph (strong breeze).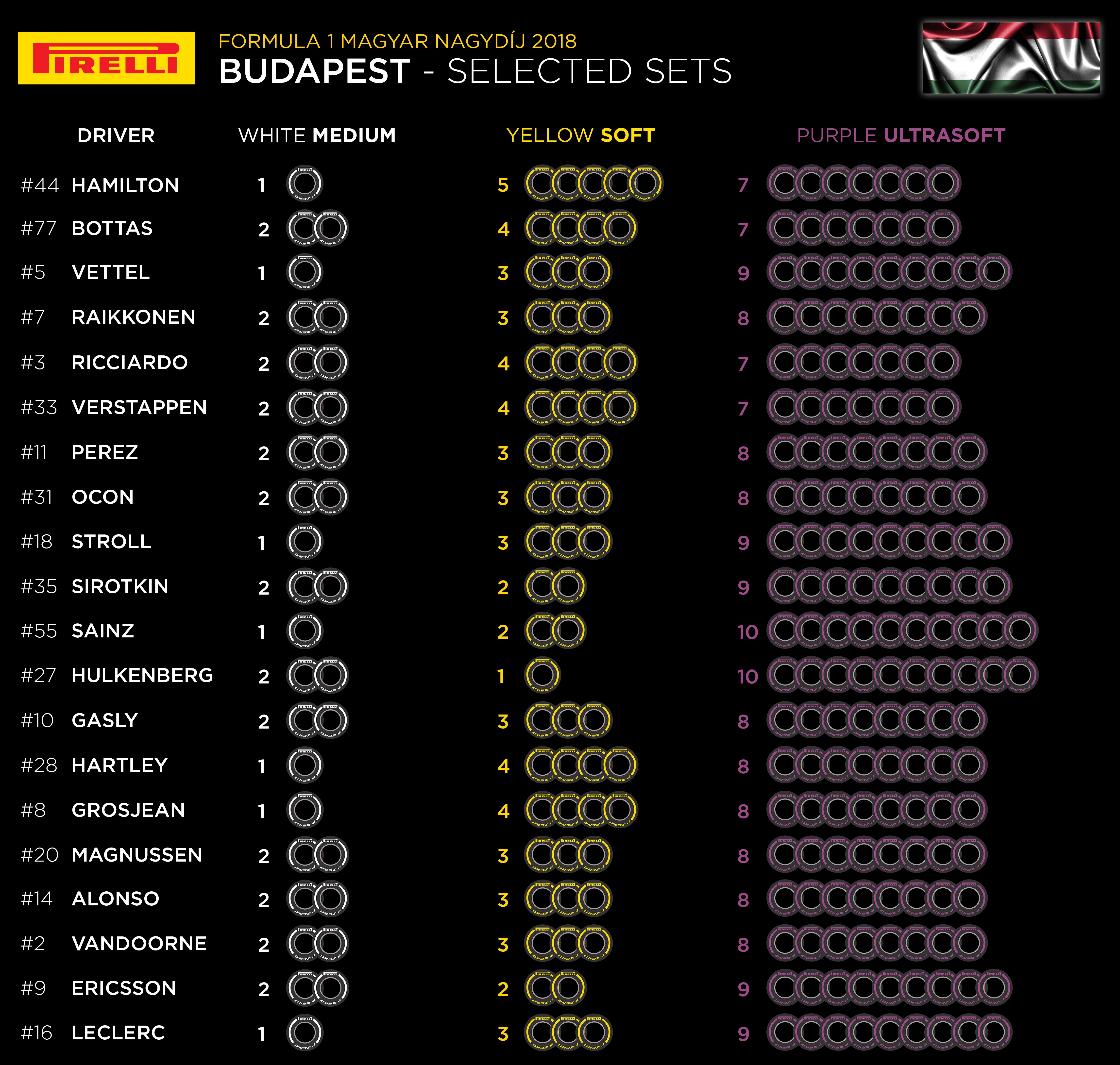 Focus points The dearth of long straights at the Hungaroring has earned it the nickname 'Monaco without the walls'. But that's a misleading description because the average lap speed at the Hungaroring is 200km/h (125mph). Sections of the track are deceptively fast. It's important to focus on a car's high-speed balance, as well as traction.
Most demanding section Many corners are inter-linked, which makes car positioning extremely important. Nowhere is this more crucial than through Turns Four and Five. Turn Four is a fast left-hander and Turn Five is long right-hander, for which the ideal entry point is on the left-hand side of the track. A fast change of direction is pivotal to being quick at this point on the track.
Biggest challenge Heat can have a significant impact on the cars and the drivers at this race
The predicted ambient temperature on race day is 30 degrees Celsius, which is gruelling for the drivers and forces the teams to open up the cars to increase cooling. The latest asphalt in the track dates from 2016. It is much darker than the old surface. Expectations are track temperatures to be in the mid-50s.
Braking Medium. The Hungaroring's braking demands are roughly similar to those at the Circuit de Barcelona-Catalunya in Spain. There are three places where the braking zones extend to 2s (Turns One, Six and 12), the hardest of which is into Turn One. In total, drivers spend 16s per lap braking.
Power The cars use 1.5kg of fuel per lap, which is low.
Aero Maximum downforce. Only two circuits on the F1 calendar have a slower average speed than the Hungaroring (Monaco and Marina Bay, in Singapore), so slow-speed grip is vital to being competitive. Only two corners have apex speeds in excess of 200km/h (125mph) and there's only one long straight (908m/0.564 miles), all of which means maximum downforce on the cars.
2:09 seconds = Fastest pit stop of the season so far ? @DHL_Motorsports #GermanGP ?? #F1 pic.twitter.com/wcOJYoLgVL

— Formula 1 (@F1) July 24, 2018