The weekend break is over and it is time for the German Grand prix. It's the start of another back-to-back, as one week on from this weekend's race at Hockenheim, comes the race in Hungary. Hockenheim is a historic track that has many tales to tell. Some of them are great, such as Gerhard Berger's win in '94 and Eddie Irvine's five years later, and the unbelievable 2000 race when Rubens Barrichello won after Michael Schumacher crashed out.
Others wear the tinge of sadness, such as the deaths of Jim Clark and Patrick Depailler and Didier Pironi's career-ending crash. But that was all on the old, uncompromising circuit, of which very little remains. Speed down the straights was everything and, in the pits, even in the Nineties, inventiveness reigned supreme.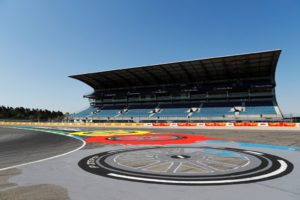 Hockenheim – quirky and traditional
Teams improvised solutions such as cutting down the pillars of the front laps, so that they ran lower to the ground, or even fitting (in free practice) four front tyres to reduce aerodynamic drag! Then it fell to the driver's talent to make up for the lack of downforce in the Motodrom, the twistiest and most evocative section of track.
The track first used in 2002 has little of that left: the straights that tore through the forest have gone and today the circuit comes in at under five kilometres in length, but still offers a combination of slow, medium and high-speed corners. The last sector is the one that can give the tyres a hard time, while the three DRS zones could make for some interesting data in terms of top speeds. There's hope of a large crowd for this race, back on the calendar after skipping 2017 and maybe we might even see a return to the large queues of fans, who would wait at the circuit exit late into the night, hoping for a glimpse of the drivers. Legend has it that, back then, some drivers would hide in the boot of the car or wear fake wigs and beards to avoid being mobbed.
REWIND TO 2014 ⏪

The day Felipe Massa became Flip-E Massa ?#GermanGP ?? #F1 pic.twitter.com/f1uW0KWp7f

— Formula 1 (@F1) July 19, 2018