Mercedes won the 2018 Constructors' title in Formula after Lewis Hamilton took victory in the Brazilian Grand prix and Valtteri Bottas finished fifth at Interlagos.
"We just wrote Championship history – but winning the fifth double World Championship feels so surreal. Who would have thought this would be possible when we embarked on this mission eight years ago? If anyone had mentioned this record back then, we would have told them they are crazy. And yet, here we are today, having just equalled the Ferrari record from the Schumacher years. It's a great honour to represent Mercedes on the track and I can't thank everyone enough for their great work, both here at the track and in Brackley and Brixworth, and also for the continued support from Daimler in Stuttgart and Petronas in Kuala Lumpur and Turin", Mercedes motorsport director Toto Wolff said.
Mercedes have a 5th double world championship in a row after sealing the constructors' title on Sunday ?

Breaking barriers, you might say ?#BrazilGP pic.twitter.com/3tQRjIOxql

— Formula 1 (@F1) November 12, 2018
"None of this would have been possible without their contributions and without the hard work and the passion of everyone on the team. I had a conversation with Lewis on Sunday night in Mexico. He had just won his fifth world championship, but both of us were not fully satisfied. Because our objective was to win both titles. That's why he was fighting so hard today because he wanted to finish this on a high, win the race and win the constructors' championship for the team. Valtteri had a trickier season than Lewis, but he has improved his performance this year and played a vital role for this championship success. Five consecutive titles – I'm immensely proud of this amazing achievement."
Mercedes Toto Wolff: Winning the fifth double World Championship feels so surreal
Technical director James Allison added that now Mercedes is "an amazing, amazing group of people built up over many years".
"The skill and the dedication in a sport that is famously complicated – to get all those ducks lined up in a row, not just once or twice but season after season – is just incredible. What was difficult about this season is that the opposition were that quick. We came to the races not knowing if we were going to win, not having any idea whether they were going to smash us. It ebbed and flowed all through the year. We thought we had them punched down so many times. Only for them to bounce back up and give us a really tough time, and it's still happening now", Allison explained.
Maximum respect @ScuderiaFerrari. Every punch we threw, you guys countered – and this one means all the more for it. Here's to many more ?#F1 #BrazilGP https://t.co/SIitp8hUO3

— Mercedes-AMG F1 (@MercedesAMGF1) November 11, 2018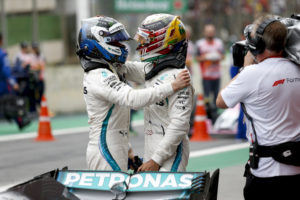 "The fact that this year has been so desperately close shows that the difference between the teams is utterly tiny – and it was Lewis who made the difference for us this year"
"He keeps putting it on pole. In the races, we can make mistakes and he'll recover it by doing something unlikely on the track that no-one sees coming. And he's spent the whole year not making mistakes. He's just the consummate racing driver. We're very lucky with the driver partnership that we have. Valtteri had a lot of bad luck at the start of the year when he might have had some race wins and has not had the same success that Lewis has had. Valtteri has been stronger this year than he was last year. He's been a brilliant team-mate to us all and a huge asset."