Jean-Eric Vergne won the 2017/2018 Formula E championship but was not quick to celebrate his achievement. The TECHEETAH driver tried to express his emotions after dedicating his season to Jules Bianchi.
"I can't believe it – what a crazy race – God, it feels good! Really I have no idea what it means to me to be champion. I need more time to process it – all I know is that it's a good feeling. I guess still having the race [on Sunday] – I cannot completely relax. I can't go crazy tonight, so on the Sunday night when everything will be over… I will be able to enjoy it to the full extent", Vergne explained.
"I have waited the whole season for this. When I crossed the line I honestly didn't know I had won. My engineer told me, 'I guess we've done it,', so I said, 'what do you mean?' Then [Andre] Lotterer went past me and clapped, so I knew something was up. When I found out I was speechless. I enjoyed the race, but obviously, it was very tough. Some drivers were quite hard and overconsumed energy to try and not let me by. It was actually really complicated, a real fight unlike in Zurich – the drivers were tougher!"
Emotional moment as @JeanEricVergne dedicates his championship win to his old friend, @Jules_Bianchi #JB17 pic.twitter.com/zQg00cHgzW

— ABB Formula E (@FIAFormulaE) July 14, 2018
CHAMPIONS! To describe this feeling is impossible – We have worked so hard this season and the pressure has been huge, but we battled hard and came out as winners. Thank you to everyone who has supported us, you guys are amazing! #NYCEPrix #ABBFormulaE #JEV25 pic.twitter.com/4SyDbXQRe0

— Jean-Eric Vergne (@JeanEricVergne) July 14, 2018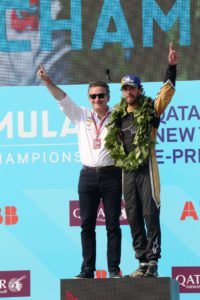 Vergne: When I found out I was speechless. I need more time to process it
In the closing stages of the frantic race, Alex Lynn spun at Turn 5 – the fastest part of the track – and hit the barrier cutting short his race and bringing out the safety car. With the race now running to time and two laps shorter, it restarted with Sam Bird needing to move up the pack in order to keep his title bid alive. He pushed and was soon up the inside of Nico Prost into Turn 1 but was unable to gain further ground.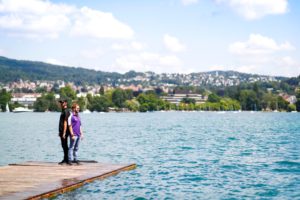 "We gave it everything today but unfortunately it wasn't enough. We knew it was going to be a difficult weekend with the extended track length and race distance from last year, but we're still very proud of what we've achieved and the whole team has done an amazing job to put us in this position. My congratulations go to Jean-Eric Vergne though who has done a brilliant job all season", Bird said.