While the FIFA World Cup final approaches, the WTCR – FIA World Touring Car Cup presented by OSCARO is heading into its second half when Slovakia Ring hosts the action from 13-15 July.
A track with a little bit of everything in terms of corner configuration, the venue close to Bratislava was home to the FIA World Touring Car Championship five times from 2012-2016 and was always a popular fixture, with Gabriele Tarquini describing it as "one of the best tracks in Europe".
Called up to replace Argentina on the WTCR OSCARO schedule less than two months ago, WTCR Race of Slovakia will bring two FIA championships together with the FIA European Truck Racing Championship joint-headlining an exciting and diverse weekend of motorsport.
As well as opening the latest chapter of what is a closely-matched and intriguing title battle, WTCR Race of Slovakia welcomes an event-winning home hero in Mato Homola, who became the ninth different driver to claim a WTCR OSCARO victory when he triumphed on the streets of Vila Real in Portugal last month.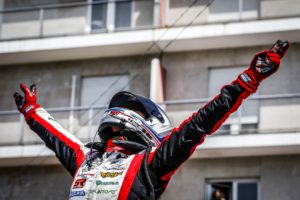 "This race is big news for me and I'm excited," said Slovak Mato Homola, who drives a Peugeot 308TCR for DG Sport Compétition
"It's my home race and in comparison to Argentina, where we were going to be racing, Slovakia Ring is 20 kilometres from my home, not thousands of kilometres away. So it's perfect and it's also great for Slovakia and Slovakian motorsport. Slovakia Ring provides good, watchable races with a history of overtaking and lots of fans coming to watch."
After beating Yvan Muller to victory in Vila Real, the expectation on Homola's shoulders ahead of his home event has risen considerably. "There will be some pressure because I want a good result but it's part of the game, it's part of motorsport and I like that," said the 23-year-old. "If there was no pressure, there would be no chance to win and I wouldn't want it to be like this."
Like Muller, Tarquini is a winner at the Slovakia Ring,
The Italian took the inaugural WTCC Race of Slovakia laurels in 2012 and triumphed again at the track the following year. Having won three races out of six at the start of this season, a podium in Vila Real marked a return to form for the BRC Racing Team driver, who failed to score in Germany and The Netherlands.
"I like the track because every corner is different," said Tarquini, who has recovered from the illness that plagued him during the WTCR Race of Portugal weekend. "We were competitive in Vila Real and I hope in Slovakia we can fight for the top five positions, but it will not be easy for us."
The three races at the Slovakia Ring will decide who will scoop the TAG Heuer Most Valuable Driver (MVD) award for the racer landing the most points across the WTCR Race of Slovakia weekend. The TAG Heuer Best Lap Trophy and DHL Pole PositionAward are also up for grabs.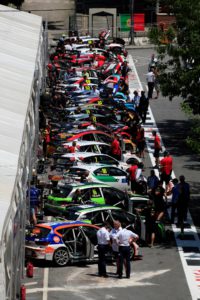 Operation WTCR Slovakia for Sébastien Loeb Racing after "nightmare"
Sébastien Loeb Racing has been hard at work to get its two new Volkswagen Golf GTI TCRs race ready for Slovakia. The squad's original fleet was destroyed at the WTCR Race of Portugal last month. Team drivers Mehdi Bennani and Rob Huff collided, crashing heavily and triggering a multi-car accident. SLR Team Principal Dominique Heintz explained: "The weekend got off to a great start and we had high hopes after the excellent work carried out by the team in free practice and qualifying. Unfortunately, it quickly turned into a nightmare. But the main thing is that both our drivers, Rob and Mehdi, were okay."
"The time we spent waiting to find out how they were seemed to go on forever. My thoughts are with them and I wish them both a speedy recovery. We missed out on a weekend in which we should have scored a great result, but now the whole team is motivated to tackle the event in Slovakia. We've been burning the midnight oil and it's extremely rare to have two cars destroyed in the same race. Now we have no other choice but to work hard to present two new cars that meet our standard of quality and get back to our usual top-class level in Slovakia."
Introducing the WTCR Race of Slovakia wildcards
Local racers Petr Fulín and Andrej Studenič received wildcard status for WTCR Race of Slovakia. Fulín, from neighbouring Czech Republic, won the FIA European Touring Car Cup in 2017. Slovak Studenič has been competing since 1992. He has enjoyed stints in hillclimb, touring car racing and, more recently, sportscars. He also has experience working as an engineer and coach. They will join the 25 all-season WTCR drivers at the Slovakia Ring with 41-year-old Fulín competing in a Cupra TCR under the Fullin Race Academy banner and Studenič, also 41, armed with a Volkswagen Golf GTI TCR run by Brutal Fish Racing.
"On one side it was difficult because we had to find the money but, on the other side, maybe it's the last opportunity for me to be inside WTCR together with great drivers like Yvan Muller and Gabriele Tarquini," explained Fulín, a race winner in TCR Germany this season. "They are not really old but they could soon decide to finish their career so I said I had to be there. Life is short and we have to enjoy it so we decided to race."
Joining Mato Homola as the second Slovakian driver on the WTCR OSCARO grid, 'Andy' Studenič has enjoyed significant success over the years in hillclimb and circuit racing
Starting out as a 16-year-old, Studenič has sampled a wide variety of machinery from a ŠKODA Favorit to a Ferrari 458 GT3. His most recent triumph came at the Slovakia Ring in 2016. Then he won the track's 24-hour event in a SEAT León TCR.
"I've only driven this car [Volkswagen Golf GTI TCR] for a few dozen kilometres, which is very little compared to the WTCR competition," Studenič said. "I do have a lot of racing experience, but not with this type of touring car. However, I hope the two free practice sessions will be enough for us to set up the car and get a clearer view. Naturally, we have ambitions, without them, we wouldn't be racing at all. However, I have no clue how we'll stand up to the experienced competition."
It's race week !
Round 6 of the @FIA_WTCR In @SlovakiaRing ??
Looking forward to push with my boys ?? @allinklracing #YE68 pic.twitter.com/L0btjkXdO0

— Yann Ehrlacher (@YannEhrlacher) July 10, 2018