The 70th Dutch TT at Assen will probably long be recalled by bike fans around the world as one of the best MotoGP races in the series' history. The eight protagonists for a podium finish in the 26-lap battle will definitely remember it that way. The fight began when the lights went off and only ended when the chequered flag established the top 3 riders who fought in the closest top-fifteen of all time. By that point, Marc Marquez had finally pulled a two-second gap on the chasing group, but until around three laps from the end he had been fighting tooth-and-nail with Alex Rins, Maverick Viñales, Andrea Dovizioso, Valentino Rossi and Jorge Lorenzo, without a moment's pause.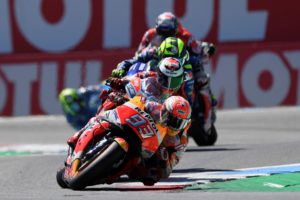 The World Champion ultimately prevailed over all his opponents to take his 65th career win and his 39th in MotoGP, extending his advantage in the world Standings to 41 over Valentino Rossi.
"It was a crazy race, full of adrenaline – this feeling is one of the reasons we do this sport! I was expecting something like this, but nothing like it actually was! We were a wild bunch, everyone fighting against everyone; I think all of us made contact with somebody else at some point. We had to attack and defend, attack and defend."
"We had so many 'big moments' and risked crashing. It was crazy!", Marquez commented
Another @marcmarquez93 masterclass ??#DutchGP pic.twitter.com/Qi5RWrjsyq

— MotoGP™? (@MotoGP) July 1, 2018
"It was impossible to define the best strategy, impossible to make plans, so eventually I decided to just fight and see what we could do in the end. In the last three laps, I gave it everything, no matter the tyres, no matter the Championship. I had been trying to reduce the group because when you're fighting for the title, you just want the fewest riders possible at the front, but it was difficult. Only when I saw I had more than one and a half seconds of advantage before the last lap did I think, Okay, we've got it, let's just finish this lap. It was an important win and 25 very important points, but we need to keep going, keep pushing, and keep this same level."
Dani Pedrosa struggled to find a good pace in the early phases and was unable to make up ground from his back-of-the-grid start
Step by step, he improved his speed and ended the race in 15th place.
"It's been a very difficult weekend, including the race. We didn't start well and couldn't make any progress in the early laps. In the beginning, I had the same feeling from practice but little by little I started to be faster and more comfortable, so I improved my pace in the end and was able to do some decent lap times. I still wasn't fast enough in the final chicane, but at least in the end, I was lapping better than during the rest of weekend. We must work and try to be faster in qualifying."
8 riders figthing for 26 laps | +100 overtakes | The closest top-15 of all time | One winner | ✊ #DutchGP @motogp @marcmarquez93 pic.twitter.com/PWOGsUQJKi

— Repsol Honda Team (@HRC_MotoGP) July 1, 2018