The Magic Weekend. A Saturday and Sunday like no other in Sweden; a weekend when 103,200 feet dance the days into the night and the night into the late night. There's always magic at World RX of Sweden, but when a Swedish driver in a PSRX Volkswagen Sweden Polo R Supercar wins, the magic moves to another level. Johan Kristoffersson put 51,600 fans under his spell as he delivered the perfect drive at the perfect track, waving his wand over Höljes to turn his Sunday special for the fifth time this year.
Johan began his home race the same way he finished World RX of Sweden three weeks ago: fastest. The defending champion was on sublime form to scorch through a scorching Swedish Saturday at the top of the table.
Not since Timmy Hansen won second qualifying at World RX of Great Britain on May 26 has Johan lost a session of World Rallycross. But if there was one man who could stop him, it was his three-time World Champion team-mate Petter Solberg. And Hollywood did just that on Sunday morning, turning in a perfect session to edge Johan and win Q3.
The pair of PSRX Volkswagen Sweden Polo R Supercars were unbeatable through qualifying and moved into the semi-finals first (Johan) and second (Petter), ensuring them of the perfect approach for Sunday afternoon's action.
Johan won from pole position in the first semi and Petter was on for an identical result in the second race when his Polo suffered a technical problem, forcing him out for the rest of the weekend.
And the final? Johan did what Johan does. He won and he won in fine style with some more lights-to-flag brilliance. Five from six for the king of Sweden.
"There's nothing quite like racing at home – except for winning at home. When I won my home round for the first time last year, I knew I would never forget that feeling and I really wanted it to come back again", Kristoffersson said.
"You definitely get a real boost from the fans in the grandstand – even if a few of them might have been cheering for some of the other Swedes around here! I love this track and these fans. And I love this team – it's their home race, so a win is special for them too."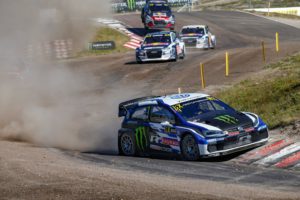 "I didn't feel the car was completely perfect for me on Saturday, but as the second day progressed it just got better and better. In the semi, it was absolutely perfect. I felt so comfortable, I could just push and push and really work the car. In the final, I would say the tyres were probably a little bit hot towards the end of the race, but by then I had been able to just keep inching forwards and away from the chasing pack."
"I got a really nice start, the launch hooked up and we flew off the line and into the lead. That got me the Monster Super Charge Award, I'm happy with that – my first since France last year! From then on I was just completely focused on every apex to make it happen and to build a lead. I did that."
"I'm so happy with another win and so happy for the team – but I want to say I am sorry for Petter. I missed my team-mate, he should have been alongside me on the front row. But for me, this is another 30 points and another really strong result for the championship."
No better feeling than seeing these fireworks at #HoljesRX – so proud and happy to get my 2nd home win in a row yesterday! ? pic.twitter.com/5RSFz5T97Z

— Johan Kristoffersson (@JohanKMS88) July 2, 2018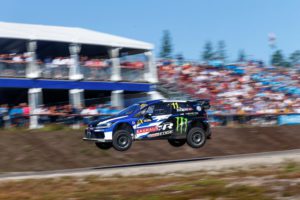 Solberg admitted there were previous disappointments in his careers but he struggled to find a bigger one than this
"This one really hurt so bad. I had the race in my hand, we were going directly to the final where I wanted a win. I wanted it so much."
"Coming out of one corner, something wasn't right with the car, I pulled over and that was the end. There's nothing more to say."
Höljes is such a special place, with a unique atmosphere, legendary track and incredible fans ???? enjoy some slow-mo highlights from the Magic Weekend! ✨ pic.twitter.com/sKsqJmTZYO

— Petter Solberg RX (@Petter_Solberg) July 2, 2018