Haas F1 Team earned a double-points finish in the Austrian Grand prix at the Red Bull Ring in Spielberg. Romain Grosjean and Kevin Magnussen finished fourth and fifth, respectively, in the ninth round of the 2018 FIA Formula One World Championship.
Grosjean's fourth-place drive is the best finish for Haas F1 Team in its three-year tenure
And with Magnussen securing fifth, it marked the best collective result for the American squad, and it came in its milestone 50th grand prix. It was also Haas F1 Team's first double-points result of the season and its third in team history, with the previous one coming last October in the Japanese Grand prix.
The haul of 22 points bumped Haas F1 Team up to fifth in the constructors' standings to leapfrog Force India and McLaren. Haas F1 Team now has 49 points and is 13 points behind fourth-place Renault with a five-point margin over sixth-place McLaren, a seven-point gap to seventh-place Force India and a 30-point advantage over eighth-place Toro Rosso. With 12 races still remaining in 2018, Haas F1 Team has already surpassed its point tally from last season where it scored 47 points, 18 more than the total earned in its debut in 2016.
"It's a great day for all of us, the whole team. They deserve such a good result with the cars finishing fourth and fifth. It's incredible for our 50th grand prix"
"I'm so, so happy for all the guys. We've done an amazing job all weekend. We had some luck in the race with the Mercedes cars not finishing, but it's been a great weekend and we can really build on that", Grosjean said.
"There are still a few things we can improve here and there, but I'm happy we managed to get that long stint on the tires. The last 20 laps were not fun – there were blisters on the rears – and I was afraid they were going to explode at any time. I am just so happy that we hung in there and finished fourth and fifth."
That feeling ???? pic.twitter.com/0wNlZdxS34

— Romain Grosjean (@RGrosjean) July 1, 2018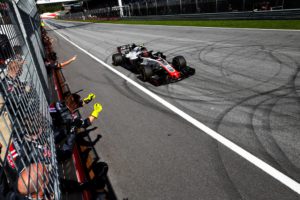 Magnussen also said the weekend was very good, adding the team did not expect to challenge for the top 5
"We finished both cars in the top five, and that's an incredible job from the team and I'm really proud of the whole team. We were struggling with blistering on the tires – the whole of the soft stint. They blistered very badly. I managed that, and then, had pressure from behind, so I had to push, but I had a good race. We've shown that we've got a good car. Actually, it's not only this weekend – we've shown all year that the car is very competitive. We've just got to keep going like this", he explained.
It was a day to remember for the @HaasF1Team

50th race ✅
Best finish (P4) ✅
Biggest points haul (22) ✅#AustrianGP ?? #F1 pic.twitter.com/9qFjTvO8hi

— Formula 1 (@F1) July 1, 2018