Max Verstappen took a highly unexpected victory in Austria for the huge delight of several thousand Dutch fans. He was understandably happy and admitted that the element of surprise made the victory even sweeter.
"If you want to win a race this is the perfect place, in a Red Bull car at the Red Bull Ring. For the race, I was very happy in general with how the car was behaving but I always just try to do my best race possible; if that is going to be first, second, third, it's not in your hand", Verstappen commented.
"From my side, I felt in control, I was driving to the best I could with the car I had and at the end, we were struggling a little more than Ferrari with the tyre blistering but we managed to stay ahead. I knew that Daniel [Ricciardo] and Lewis [Hamilton] had to pit again and I didn't want that scenario so I was not driving to the full limit of the car but just managing everything. It was tougher than perhaps it looked but I just needed to be on top of my tyres."
"I'm very thankful to the engineers for making that strategy call under the VSC and full complements to the team for that pitstop because that definitely made our race. The fans in the grandstand were great, so many orange t-shirts there. My focus was always on the track but for the last few laps I could look a little bit to my left and they were really cheering me on, it was amazing."
Unbelievable! Thank you so much @redbullracing for the amazing car and strategy, and the Orange army for the incredible support ?? This win will stay with me for the rest of my life #unleashthelion #keeppushing #AustrianGP pic.twitter.com/Y2Cub0Rfu3

— Max Verstappen (@Max33Verstappen) July 1, 2018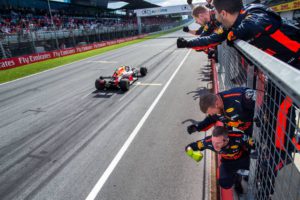 Verstappen: I was driving to the best I could with the car I had
Ricciardo did not finish the race which was definitely not the birthday present he deserved.
"I'm obviously disappointed with how the day went. At one stage it was looking like a one-two, but in all honesty, as soon as we put the softs on it didn't feel like it gave me much. Even though we were able to get Kimi [Raikkonen], I didn't feel like I was able to pull away and then I saw the tyre was getting torn apart. So we had to pit and that put us out of contention for the podium", the Australian explained.
"Then we had what I think was a broken exhaust which put me out of the race. I could feel something was wrong down the back straight before the last sector, so I mentioned it and then tried to do a procedure but the call came for me to stop. I'm happy for Red Bull, the team, the brand, the people, and happy for Max who has so many fans here. I saw Mr Mateschitz earlier and I can imagine what he is feeling right now. Obviously, it was not my day but from the team's point of view, for the Austrians and for Max – it was a big day for them, so I'm happy that some part of the team will be celebrating. I don't think I'll celebrate too much for my birthday but you know, maybe a cognac to get over these sniffles!"
This is our house! ?? @Max33Verstappen brings it home at the #AustrianGP ??#givesyouwings pic.twitter.com/rtcKSSOQOn

— Red Bull Racing (@redbullracing) July 1, 2018