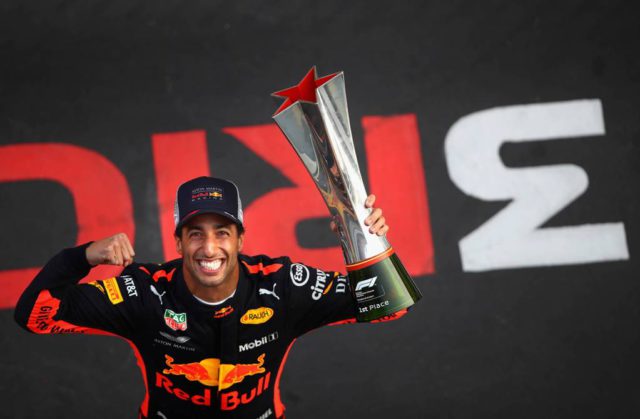 Daniel Ricciardo did not hide his tears on the podium at the Shanghai International Circuit. The Australian driver won the Chinese Grand prix, surprising even himself but he took all his chances and made no mistakes on the way to the chequered flag.
"That was fun, a lot of fun and I just about believe it now. From where we were [on Saturday] you would not have believed we would be here. For me, this is a massive reward but for the mechanics and engineers, they really earned this victory. Not only for the pit stops and strategy today but for getting me out in Qualifying which enabled me to get in the fight for victory, they should be very, very proud. The problem in free practice wasn't their fault but they did all the hard work and made today happen", Ricciardo said.
"At the start of the race I thought we could fight for a podium but I didn't really expect a win; then after the safety car and when I could see the way the race was going I knew we had a chance. Once I had a sniff of victory I wasn't going to let it go. The team made a very quick decision to stop both cars under the safety car and it was a winning decision. I have lots of emotions. On the in lap I was just smiling and I didn't have many words, then on the podium I was nearly in tears and in the press conference I was just thinking about the whole race and also about last week; how disappointed this sport can make you feel but also how high it can make you feel. Now we can all go and celebrate tonight."
Looks like @DanielRicciardo enjoyed that one a bit ?#ChineseGP #F1 pic.twitter.com/LI6YLo2atO

— Formula 1 (@F1) April 15, 2018
Ricciardo: This win is a massive reward but for the mechanics and engineers, they really earned it
Red Bull team principal pointed out that achieving victory in China was a fantastic team effort.
"A strong strategy and a great performance by the pit crew, who have done an amazing job all weekend particularly with the engine change on Daniel's car; and Daniel drove an amazing race and fully deserved victory. His passes were exemplary and the strategy really came alive for us under the safety car. We made a late call to get both cars in and again the second double stop was clinically executed and they did an unbelievable job", Horner commented.
"For Max [Verstappen] the first part of the race was going very well. Unfortunately, he lost time on the outside of Lewis [Hamilton], dropped behind Daniel, and then, when attempting a pass on Sebastian [Vettel], he made contact resulting in a 10-second penalty which he has apologised for. He still managed to bring the car home in fifth. It is a result I am sure he will be frustrated with, but performance today bodes well for the coming season. Speaking of a team effort, any win begins with all of the guys and girls back at the factory and the dedication and hard work there, and that allows us to enjoy moments like this."
"Holy Testicle Tuesday!" Alrighty then, @DanielRicciardo ? #ChineseGP #F1 pic.twitter.com/eRAliMTgDb

— Formula 1 (@F1) April 15, 2018