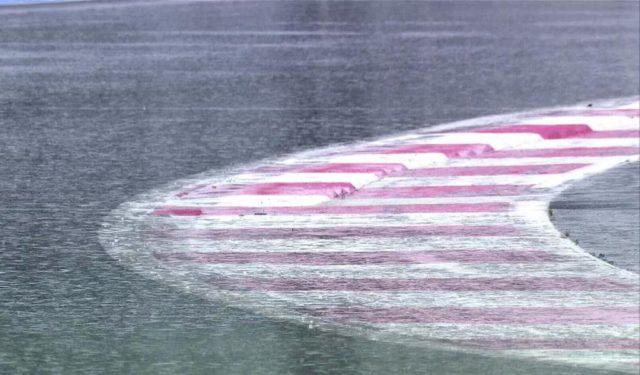 Heavy rain over the Paul Ricard track shortened the work time in the third practice session for Formula One teams to less than 10 minutes. The rain began at the beginning of the last 60 minutes at the teams' disposal and minutes later it poured so much that everyone was back in the boxes.
Clouds arrived at the track minutes before the start of the last hour for pre-qualifying training. The air temperature was 25 degrees, 38 on the track. Literally, a minute after the session's beginning fans in the stands took out umbrellas and Daniel Ricciardo reported that a few drops of rain had fallen on his helmet visor. Sebastian Vettel said the same on the radio – specifically for the fifth turn.
Lance Stroll from Williams said that it was already raining even in the last section of the track. Kimi Raikkonen went off of the track at a fairly low speed, while a little more than half of the drivers already had time on the table to try and do some work if the rain increased. Valtteri Bottas topped the ranking with 1:33.666 min, followed by Carlos Sainz (+1.287 seconds), Charles Leclerc, Fernando Alonso, Vettel, Stoffel Vandoorne.
8 minutes after the start of the session, the rain was already strong and Vettel had to be careful returning to the pits on dry tires
13 drivers had recorded times.
Monsieur, that might not be big enough ?#FrenchGP ?? #F1 pic.twitter.com/njU3rHNB8f

— Formula 1 (@F1) June 23, 2018
The work stopped quickly in the next few minutes. Initially, the forecast was that the rain would last about a quarter of an hour. However, it was constantly changing, and in the middle of the session, it said the rain would eventually stop only 10 minutes before the end of the officially set training time. According to other meteorologists, it would continue until the chequered flag, taking away the teams' chances to finish their programs, started on Friday.
Instead of trying out settings, the teams in the pitlane were wondering who first wrote "Definitely raining" and talking about drinking tea
We have lovely tea and the best coffee in the paddock… our place in five?

— Sahara Force India (@ForceIndiaF1) June 23, 2018
Ten minutes before the end of the training, Fernando Alonso went out of the McLaren box and began a lap. Stroll followed him. Meanwhile, Nico Hulkenberg explained that the reason for no drivers on the track is that teams keep their wet tires and intermedia. According to the latest data, during it may also rain during qualifying as well as in the race.
Sergey Sirotkin had also appeared on the track and even started a quick tour. His time in this lap was almost two minutes, but the Russian did not finish it and went back to the pits. Leclerc also tested the conditions of the track as well as Toro Rosso's drivers.
FP3 CLASSIFICATION: 20 drivers, and just 61 laps completed #FrenchGP ?? #F1 pic.twitter.com/Nz3LXXkekb

— Formula 1 (@F1) June 23, 2018