Yann Ehrlacher will need to call on all his street-fighting skills when the WTCR – FIA World Touring Car Cup presented by OSCARO heads to Vila Real in northern Portugal for the ultimate urban test of speed and belief.
Leading his uncle Yvan Muller in the standings by nine points after four all-action events, Ehrlacher is part of a packed line-up of drivers preparing to tame the Nurburgring Nordschleife of the South, as Vila Real has become known due to its fast and challenging blend of turns, climbs and descents.
Off we go to Vila Real ???
See you there guys!#YE68 pic.twitter.com/s0kzwj7DOu

— Yann Ehrlacher (@YannEhrlacher) June 20, 2018
Without three chicanes on the spectacular 4.785-kilometre lap, average speeds would hit 170kph, such is the breath-taking nature of this iconic street racing venue. A harsh punishment follows the mistakes there but the satisfaction of winning is enormous, as Honda's home hero Tiago Monteiro can attest.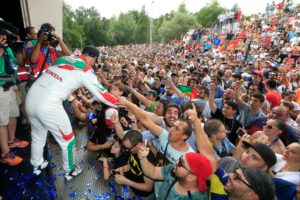 "It's a moment I will remember forever," Monteiro said after being roared to Vila Real victory in 2016 by thousands of Portuguese fans. "I will keep it in my head, in my heart, it was very emotional and very important. To win your home race it's just unbelievable. I could hear people in the car, I mean we have engines, we have earplugs but I could hear people shouting in the last few laps."
Ehrlacher made his Vila Real debut in 2017 – which coincided with the global premiere of the 'joker' lap in a world championship motor race – and left town with a best finish of ninth place in the first of two FIA World Touring Car Championship rounds. He'll need to do a whole lot better in 2018 to hold his title advantage in his ALL-INKL.COM Münnich Motorsport Honda Civic Type R.
"We can put Vila Real with Macau and Nordschleife in the group of most challenging tracks," said the 22-year-old Frenchman. "For sure I have to think about the points and it's better to be the leader than only P5. But only if I come to Macau as the leader will I have some pressure. For now, it's too early to have pressure. I feel satisfied [to be in this position] but I will be more satisfied if I finish the job at the end of the year."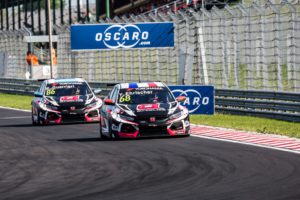 But he's kept "in the zone" as he explained: "I'm training five days a week, cycling, running, tennis and badminton, I've been doing a lot of simulator training and I'm watching a lot videos from Vila Real, onboards from last year and the Eurosport broadcasts to refresh my mind and keep at the right level. For sure it will be tough to be without any races for a month and be straight in the fight in Vila Real where you have to push a lot to get into the rhythm. But that's what we have to do."
The three races in Vila Real will decide who will scoop the TAG Heuer Most Valuable Driver (MVD) award for the racer landing the most points across the WTCR Race of Portugal weekend. The TAG Heuer Best Lap Trophy and DHL Pole Position Award are also up for grabs.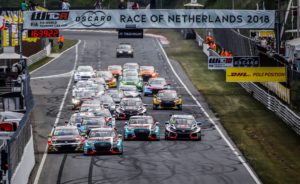 It's back: 'joker' lap to spice up the Vila Real WTCR action
It's not just the demanding hillside roads of Vila Real – where racing has taken place since 1931 – that will require Yann Ehrlacher and his WTCR OSCARO rivals to be on top form.
The 'joker' lap brought a new concept to world championship motor racing when it appeared at WTCC Race of Portugal in 2017. Designed to further spice up the action on a circuit where overtaking isn't always possible, the 'joker' lap concept requires the WTCR OSCARO drivers to take an alternative route in all three races, although not before the third lap of any race.
Vila Real's 'joker' lap route is located at the final corner, Turn 26, with the full approval of the FIA Safety Department and local authorities. While the right/left flick through a roundabout will still be used in normal racing conditions, the alternative route will effectively take drivers the other way onto the roundabout and through a tighter left/right sequence before they re-join the start/finish straight. Teams expect the alternative route to take an additional two seconds, which will hand pursuing drivers ample opportunity to overtake.
Inspired by the FIA World Rallycross Championship, the 'joker' lap brought an extra dimension to WTCC Race of Portugal in 2017. As well as providing additional overtaking opportunities, it will again lead to different strategies that might change during the course of the races.
To make it visible and understandable on television, the 'joker' lap location will be highlighted by special graphics, which will also give viewers instant notification when the lap has been taken. Fans following live timing through the WTCR app will also be able to determine the 'joker' status of each driver.
Race week, race week, race week!!!

Who's coming to Vila Real ??? pic.twitter.com/CQ0VVIYdcO

— Honda Racing WTCR (@hondaracingwtcr) June 18, 2018
Introducing the WTCR Race of Portugal wildcards
Two emerging talents – including one hometown hero – will join the WTCR OSCARO regulars on the Vila Real grid. Edgar Florindo, a 30-year-old from Vila Real, and based José Rodrigues from Braga, 28, are the two wildcards for Portugal's rounds of the WTCR.
They have been chosen by championship promoter Eurosport Events, in conjunction with motorsport's world governing body, the FIA, based on performances at a national level, their potential as future full-time WTCR drivers or if their participation has the potential to attract additional interest from fans and media. "I feel proud and very satisfied," said Florindo, who claimed eight consecutive podiums – including two victories – in TCR Portugal last season. "I always like challenges and this is the biggest of my career yet."
Like Florindo, Rodrigues is no stranger to the Vila Real street track. He was a Vila Real winner in 2016 and claimed a podium finish when he made a one-off start in the FIA European Touring Car Cup last season. "Since I was a child, it was a dream to race in an FIA world-level event so I'm really proud," said Rodrigues, part of Tiago Monteiro's Skywalker Management company. "It is the result of many years of effort and also the passion of those who have always supported me."