The worldwide web did not exist. The demolition of the Berlin Wall began. And Channel Tunnel workers from the United Kingdom and France shook hands for the first time 40 meters (131 feet) beneath the floor of the English Channel. It was 1990, and it was the final year of the French Grand Prix at Circuit Paul Ricard.
Countryman Alain Prost won for Scuderia Ferrari to score his third win of the season in a battle for the championship with eventual title winner Ayrton Senna. Also notable in the 1990 French Grand Prix was the performance of privateer Leyton House and its drivers Ivan Capelli and Mauricio Gugelmin, who ran first and second for much of the race, with Capelli leading a race-high 45 laps.
Twenty-eight years have passed since the FIA Formula One World Championship last visited Le Castellet, France, home to Circuit Paul Ricard. But come Sunday, the French Grand Prix returns to a revamped 5.842-kilometer (3.63-mile), 15-turn layout in the heart of the Bandol vineyards. The circuit has evolved to become one of the most technically advanced in the world. In fact, it is the first entity to be designated as a "Centre of Excellence" by the FIA.
Just as Leyton House turned heads in Formula One's last visit to Circuit Paul Ricard, the third-year Haas F1 Team looks to play a similar role in Sunday's French Grand Prix. Drivers Romain Grosjean and Kevin Magnussen are eyeing the eighth round of the 21-race season, and that's because Circuit Paul Ricard is a power track with sweeping corners, which plays to the strengths of their racecars – even before a significant set of upgrades were employed on their Haas VF-18s.
Haas F1 Team is locked in a tight battle in the constructors' standings, as it is currently tied with Toro Rosso for seventh with 19 points apiece, nine points behind sixth-place Force India with a seven-point advantage over Sauber, their nearest pursuer.
Haas team principal Guenther Steiner previews the race.
It's race week!

Give us a ? if you're ready for the #FrenchGP. pic.twitter.com/Xo2wCiMYhX

— Haas F1 Team (@HaasF1Team) June 19, 2018
How do you prepare for a venue you've never been to before?
"You take the data you're given and you just try to do your best. Everybody's in the same boat. You do your simulator testing, you run your computer simulations, and then just go there and work the weekend like any other one."
Haas F1 Team is still relatively new, but Circuit Paul Ricard is new for everyone. Do you feel the French Grand Prix is perhaps the most level playing field because everyone is, theoretically, starting from the same slate?
"The big teams will always be ahead of everyone else. They just have more resources to prepare. Even with little-known information, they get the last little bit out of it with a lot of manpower and effort. They always get more out than the smaller teams, which have to work with fewer resources."
Haas F1 Team brought significant upgrades to its racecars in Montreal. How did they improve the car and what are your expectations for how they'll perform in the French Grand Prix?
"The data showed exactly what the upgrades were doing in Canada. We got the confirmation that the upgrades work. Romain was very complimentary about the upgrades. For sure, France and the coming races should show more of what the upgrades are actually capable of doing."
Between the upgrades and some crashes, spare parts have been at a premium. Where does the team stand with spares as we head into this three-week stretch of races?
"We're actually not in a bad place. We're still tight because, with three races in three weeks, you just cannot catch up with producing parts should we have some damages. Luckily, we didn't have any big damage in Canada, except the nose which was damaged by the groundhog. Otherwise, we got away pretty good. We should have more spares for France and, hopefully, we don't have any accidents there or in Austria. That will bring us up to a normal quantity of spare parts after the stretch of three races."
Grosjean appeared very happy with the Haas VF-18 at Montreal and was looking forward to this slate of races, and while Magnussen wasn't as comfortable as Grosjean was at Montreal, he was also looking forward to Paul Ricard, Red Bull Ring and Silverstone because he feels these power circuits better suit the Haas VF-18. What is your take?
"They should, in theory. Everybody points to that direction that our car is best on these kinds of tracks, like Barcelona, Austria and France. Let's see what we can do. We are all very confident about getting back to a good form. In Canada, Romain was very fast but, unfortunately, he had to start last, and that's never good. We are all very confident we can have good results in the next three races."
You ran an updated Ferrari engine at Monaco and on into Montreal. How timely is having the latest and greatest Ferrari power for this slate of power circuits?
"Having the latest and greatest engine is always good because the development always gives some advantage. Either you get more efficiency, more power, more drivability. The engine was good in Monte Carlo, where it was introduced. For sure, we're happy to have it going forward until we get the next upgrade, which will be even better and greater. For now, though, the proof was in Canada, where you have a lot of long straights where you need the engine at its maximum. We are very confident we will not have an issue with the engine."
Scuderia Ferrari has a series-leading three wins this year. Considering the technical partnership Haas F1 Team has with Ferrari, how does their success help Haas F1 Team?
"If a power unit is good enough to win races, it should be good enough for us to get points. It's always good if they do well because that normally puts us in the position that we'll do well in our own battle in the midfield."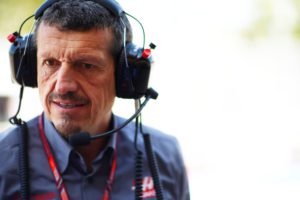 It was noted in Montreal how Valtteri Bottas had to work hard to conserve enough fuel to make it to the end of the race. As we hit this batch of power circuits at Paul Ricard, Red Bull Ring and Silverstone, how much does fuel management come into play?
"Fuel management is something everybody has to deal with. Drivers don't like to manage fuel. They like to go as fast as possible. As soon as you have to lift-and-coast to manage fuel, they're not happy. With the regulations as they are now, this is what we need to do."
Fuel levels are set to increase in 2019, from the current allotment of 105 kilograms (27.3 gallons) to 110 kilograms (28.6 gallons) in order for drivers to use the full power of their car's engine at all times. What can a driver do with those five extra kilograms (1.3 gallons) of fuel? Does it give them the freedom to push as hard as they want, whenever they want?
"On a lot of the circuits, yes, the drivers can push as hard as they want because they have more than enough fuel to go the distance. But on some other circuits, there is still some lift-and-coast, and lift-and-coast is sometimes done for other reasons, not only for fuel consumption. Sometimes, it's to save your brakes or to save your tires. But in theory, most of the tracks with a 110-kilogram limit allow you to be wide open for the whole race. It does add some strategy to the race, as you can either go wide open or save tires and whatever suits you or your car better, then that's the choice you make."
The 2019 aero package, which will see a simplified front wing with a larger span, simplified brake ducts with no winglets, and a wider and deeper rear wing, is nearly complete. How have these changes affected the design of next year's car and, also, when do you stop developing this year's car to focus on next year's car?
"We've had to do a lot of studies with the new regulations. It's just the details getting sorted out at the moment. For sure, it will trigger that we switch over to the 2019 car a little bit earlier than we envisioned at the beginning of the year, but so will everyone else. It's not a big change. For the aerodynamic engineers, it's a good challenge. The exact date when we switch over, we don't know yet. The jury's still out on how big the change is. There was speculation the cars would be a lot slower, but I don't believe that one. There are a lot of intelligent engineers working on it, and we will find a way around it to make the new regulations work as well as the old ones, and have a very similar speed to what we have this year."