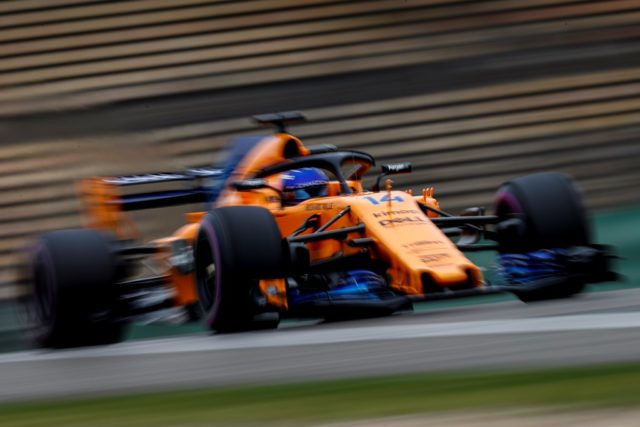 The Chinese Grand prix provided a mixed result for McLaren. Starting in 13th and 14th respectively, Fernando Alonso gained two and Stoffel Vandoorne lost two places at the start, which set the tone for much of the remainder of the race.
Both drivers managed their tyres well and the team executed a one-stop strategy, although the advantage of this was negated somewhat by a Safety Car period in an ideal pit window for the two-stopping cars around them.
Both Alonso and Vandoorne put in strong drives and made bold overtaking manoeuvres to make up places ahead of them
A late final push from Fernando saw him sneak into seventh place on the penultimate lap of the race. Conversely, Stoffel suffered strong vibrations in the car in the closing laps, making handling difficult and hindering any further progress, and he finished 13th.
"Again, on Sundays, we seem to deliver better than any other day, which is good as this is when points are given out", Alonso commented.
"It was a well-executed race from our side – P13 at the start and P11 after the first lap. The Safety Car didn't play into our hands as we were on a one-stop strategy and we'd just pitted onto good, fresh tyres which were going to take us to the end, but the Safety Car gave everyone else the opportunity to pit."
"We had good battles with Haas and Ferrari, even though the latter wasn't really a fair fight as Sebastian [Vettel] apparently had damage on his car and was struggling in the corners. We caught up with him, saw that the door was open in one corner, so we went for it."
"P7 is a great result for the team after a difficult weekend, but there's no doubt that we have to improve. Our pace wasn't there all weekend and we were still not fast enough in the race."
LAP 55/56: Vettel leaves the door slightly open

And @alo_oficial powers his way past to claim P7 ?

2017: Alonso's points, whole season = 17

2018: Alonso's points after three rounds = 22 ✌️@McLarenF1 #ChineseGP #F1 pic.twitter.com/5An3RwyOrU

— Formula 1 (@F1) April 16, 2018
Vandoorne also said the team is looking for improvement in its qualifying performance
"I didn't have a great start and lost a few places on the opening lap. I managed to make three solid overtakes to make a few positions back before the pitstop. The question for us was whether to make one or two stops when racing the other cars around us and unfortunately our one-stop strategy didn't really pay off in the end because the others around us benefitted from pitting under the Safety Car", the Belgian added.
"We thought there might be more opportunities at the end, but we didn't have the pace and I felt a strong vibration in the car which made the last few laps difficult."
"It wasn't the day we were hoping for, but despite this, we still showed that our race pace was stronger than our qualifying pace. We're working hard to improve this and our performance on Saturdays, and hopefully, we can have a stronger weekend in Baku."
? MIDFIELD BATTLE (constructors)

2017 (after three rounds)
4️⃣th Force India 17pts
5️⃣th Williams 16
6️⃣th Toro Rosso 12
7️⃣th Haas 8

2018
4️⃣th McLaren 28
5️⃣th Renault 25
6️⃣th Toro Rosso 12
7️⃣th Haas 11 #F1 pic.twitter.com/KGqNhVwiVu

— Formula 1 (@F1) April 17, 2018