The French Grand Prix is back on the Formula 1 calendar. This weekend, Formula 1 returns to 'La Grande Nation' for the first time since 2008. The 59th French Grand Prix takes place on a familiar yet new track – the totally revamped Circuit Paul Ricard at Le Castellet. Although Mercedes in its current incarnation is competing in France for the first time, the Silver Arrows have already celebrated success there, the first occasion being 1954 in Reims. That was when the legendary Juan Manuel Fangio and Karl Kling driving the W196 secured a one-two win.
Mercedes-powered cars have registered a total of two victories and ten podiums in the French Grand Prix. Lewis Hamilton has already had success on French soil, namely at Magny Cours where he competed twice and made one podium appearance. The teams will need to pack their gear up especially quickly at Le Castellet because the second part of the first triple-header in F1 history – the Austrian Grand Prix – is due to take place the following weekend. The back-to-back programme continues with the British Grand Prix at Silverstone one week later.
These guys = Racing pioneers! ?#FrenchGP ?? @MercedesBenz pic.twitter.com/TcNnZX1LoP

— Mercedes-AMG F1 (@MercedesAMGF1) June 20, 2018
"The weekend in Canada didn't meet our expectations. In the past, Montreal was a track where we were fighting for the win, but this year we lacked the performance on Saturday and Sunday. We analysed the weekend and understand why we didn't do better, but that doesn't change the fact that we left points on the table", Mercedes motorsport director Toto Wolff explained.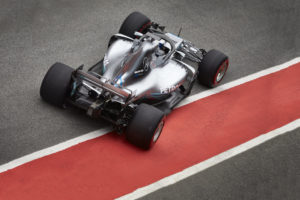 Mercedes expecting an interesting race at Paul Ricard
"This season's battle is intense and we need to be on top of our game every weekend to win races and to fight for this championship. We are facing an exciting challenge this year and we will give it everything. This team has shown in the past that it is capable of overcoming obstacles and we are working hard to overcome this one as well."
"France should be an interesting race. We don't often get to race on a track where we have little to no historical data. It makes preparing for the weekend a bit trickier than usual, but that element of the unknown also adds to the challenge. The French Grand Prix marks the first race of the triple-header, which will test all F1 teams to their limits, but also offers the chance to score a lot of points over the course of three weeks – which is precisely what we're setting out to do."
? TRIVIA TUESDAY ?

? Who wants some stats to celebrate the return of @PaulRicardTrack? ?

5⃣.8⃣ – Circuit length (5.842km)
1⃣5⃣ – Number of corners (6L/9R)
2⃣8⃣ – Years since #FrenchGP hosted there
5⃣3⃣ – Laps
3⃣1⃣0⃣ – Race distance (309.626km)@MercedesAMGF1 pic.twitter.com/SQDGphiRRj

— PETRONAS Motorsports (@PET_Motorsports) June 19, 2018