After the third double-points finish of Renault of the season in Monaco, focus immediately switched to Montréal, a track which places emphasis on power, balancing downforce and heavy braking, as Chassis Technical Director Nick Chester reveals.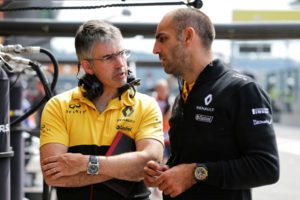 What can we expect when we arrive in Canada?
It's a track which isn't used very much, so it's usually a pretty dirty surface when we start running on it. It's very much a traction circuit, as there are quite a few slow corners and then some big long straights. Canada is about power and traction. You need a lower downforce set-up level, as you also need that straight-line speed. Striking a downforce balance can be quite difficult, but we're usually pretty good at working out what level to run when we get there. Kerb riding too is important, and we need to get the car low and stiff to balance between the best aero and getting the car riding the kerbs. Kerb riding is important but we need to optimise ride heights for the aero platform so there is a balance to be struck between aero performance and getting the car riding the kerbs.
Hey @svandoorne, just look – don't touch. ?? #CanadianGP pic.twitter.com/AWb5qRPmsu

— Nico Hülkenberg (@HulkHulkenberg) June 7, 2018
Is it difficult to manage a flyaway race in between the busy European segment of the calendar?
The logistics are slightly harder for Canada, as you have to pack up earlier and get it freighted out there. It's going to be more difficult afterwards as we will need to get everything back ready for the tripleheader. It's going to be a challenge and a big job.
Will there be anything new for the Renault R.S.18 in Montréal?
There's a B-spec engine for Canada and we're looking forward to that, as it should bring a bit more performance. There are a few bodywork updates too with some rear wing endplates, as well as small changes to the front wing. We're trying to bring things to the track at every race.
How do we look back on Monaco?
Overall, it was a decent weekend with both cars scoring points. Nico recovered well in the race and worked his strategy very well. Carlos endured heavy tyre degradation to his fronts and had to settle for tenth. It's important that we keep chipping away at points, and we've done that in Monaco.
New season, new quizzes. It's time to get to know our drivers by asking them the REAL questions. This week, we ask @Carlossainz55 & @HulkHulkenberg to put together their dream dinner party! #RSspirit #CanadianGP pic.twitter.com/xBahFt8hNN

— Renault Sport F1 (@RenaultSportF1) June 7, 2018