Hyundai Motorsport heads to Rally Italia Sardegna, round 7 of the 2018 FIA World Rally Championship (WRC), at the head of the drivers' and manufacturers' classification following a hard-fought victory last time out in Portugal. The WRC's run of four consecutive gravel events continues on the Mediterranean island of Sardinia, where Hyundai Motorsport has enjoyed plenty of success in previous seasons: a double podium in 2015, victory in 2016 and third place in 2017.
The 20-stage rally offers one of the shortest competitive distances of the season at just 313km. However, the Alghero based event includes plenty of spectacular gravel courses against a backdrop of stunning seaside vistas with high temperatures putting additional stress on crews and cars.
Hyundai Motorsport will field three cars for the Sardinia round with Andreas Mikkelsen/Anders Jæger, Thierry Neuville/Nicolas Gilsoul and Hayden Paddon/Seb Marshall competing in cars #4, #5 and #6 respectively.
We can confirm we will run THREE cars at @RallyFinland in July with @AMikkelsenRally @thierryneuville & @HaydenPaddon ?#WRC #HMSGOfficial

— Hyundai Motorsport (@HMSGOfficial) June 5, 2018
As championship leader, Neuville will have the honour and challenge of being first on the road on the opening days. Mikkelsen and Paddon, meanwhile, will be looking to bounce back from a tricky Portugal where misfortune hampered their weekend performances.
The team carried out testing of its Hyundai i20 Coupe WRC in Sardinia after Rally Argentina in early May in preparation for the event
Team Principal Michel Nandan commented: "We were able to compete at a very high level in Portugal with all of our crews demonstrating the pace of our Hyundai i20 Coupe WRC, and stage winning abilities. Like all teams, it was a character-building weekend but we came away with a win and leading both championships. Our target for Sardinia is to build on that, although we know it will be another tough weekend."
"Thierry will be first on the road, which will immediately put him at a disadvantage, but we hope he can make the best of the situation. For Andreas and Hayden, after a frustrating weekend for them both in Portugal, we hope they will be able to get back onto the pace straight away and fight at the front. Our car has shown itself to be strong on gravel and we have had a lot of success in Sardinia previously, so we aim to keep our hold on the championship lead heading into the long break."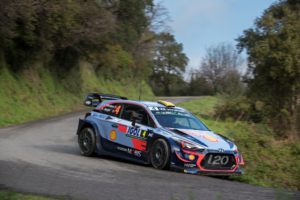 Third place in Sweden remains Mikkelsen's and Jæger's best result of the season to date
The crew is in sixth place in drivers' championship.
"Rally Italia Sardegna is a very warm event and it's important to have high concentration; there are many rocks sticking out that can cause punctures or damage. You also need a stable car because the stages are quite narrow and rough with a lot of bumps. We have made improvements to the car on gravel, which has given me an improved feeling, and I felt really comfortable during Rally de Portugal. This is a positive sign for Sardinia where our aim is to catch up some points and improve our position in the drivers' championship, while also helping the team to increase the manufacturers' lead. It will be tough on mind and body, as well as the car and tyres, but we're ready for it", Mikkelsen commented.
Rally Italia Sardegna:
2015: ??
2016: ??
2017: ?
2018: ❓
Head into the weekend with our @Rally_d_Italia preview video ???#FridayFeeling #HMSGOfficial #WRC pic.twitter.com/pEEL0CVWlQ

— Hyundai Motorsport (@HMSGOfficial) June 1, 2018
Neuville is on top of the drivers' championship following his win in Portugal
He won in Sardinia in 2016 and has 3 consecutive podiums in the event between 2015 and 2017.
"Portugal was the near-perfect weekend for us, as we took 29 out of a maximum 30 points. We now move onto Sardinia, which is one of the most technical events on the calendar, leading the championship. The roads are very narrow and become extremely rough on the second pass. The grip level is quite high on the repeat loop, but we often lack traction on the first run through. They are tricky conditions but the stages tend to suit my driving style and pace notes system. I am able to be very precise and I have been successful there many times in the past", Neuville explained.
Ready for the dust? #RallyItaliaSardegna #WRC #HMSGOfficial #TN #NG pic.twitter.com/D3jxCH6Ig5

— Thierry Neuville (@thierryneuville) June 4, 2018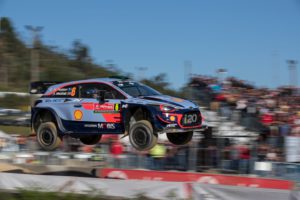 Paddon and Marshall took a stage win and twice led the rally in Portugal before retiring
The New Zealander has a podium in Sardinia in 2015.
Paddon said: "First of all, I am feeling fighting fit after the incident in Portugal. And I'm ready to get back down to business. Up to that point, we were able to show a competitive level of performance, taking a stage win and battling for the lead. Rally Italia Sardegna is certainly one of the highlights of the year, located in the Mediterranean with sunny conditions and hot temperatures. The stages are very twisty and challenging. It is a rally I enjoy, and from where I have good memories. I scored my first WRC podium there in 2015 and led the rally in 2017. I would like to finish off what we started last year."
STAT: For next week's Rally Sardegna we have 128km of pacenotes from previous years for the 162km of this years stages (not incl repeat SS). For this 128km we have approx 7335 note descriptions & as part of our pre-event study, made ~ 1300 changes to those notes to refine (18%) pic.twitter.com/PFsC69lYRE

— Hayden Paddon (@HaydenPaddon) June 2, 2018