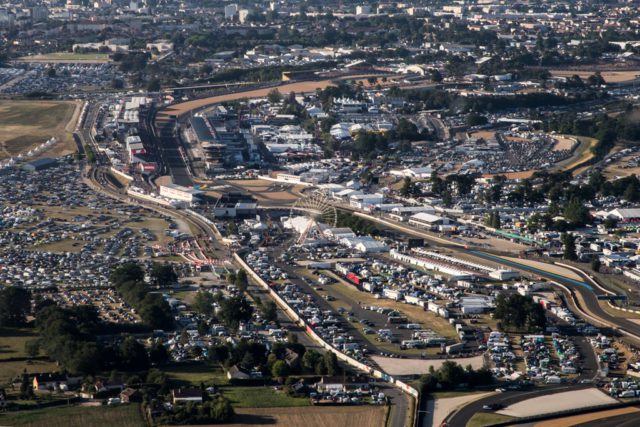 The Circuit des 24 Heures du Mans is perpetually evolving and has a makeover every year ahead of the world's greatest endurance race. All changes go under the aegis of the Syndicat mixte des 24 Heures – a consortium of local authorities – and the Automobile Club de l'Ouest
Ghislain Robert, ACO's Events & Infrastructures Director, has two watchwords: "safety and spectator comfort". All the work this year focused on these aims. The final phase of safety improvements at the Porsche Curves has been completed. This project, commissioned by the Syndicat mixte, began in 2015. A large run-off area has been created on the right-hand side on exit, at the junction with the Maison Blanche circuit.
First arrived in the paddock ? !@PorscheRaces #LeMans24 is in the air pic.twitter.com/yqm6BjzH7n

— 24 Hours of Le Mans (@24hoursoflemans) May 23, 2018
The Syndicat mixte has also supervised work to improve access for disabled spectators (access ramps, toilets, etc.) while the erection of protective panels in front of the restaurants on the Mulsanne Straight is a further boost to driver safety.
Meanwhile, the ACO has commissioned other work. The biggest change sees the start line moved 145 metres. Now competitors will line up along the Pit Straight and offer grandstand spectators a prime view of the whole grid. Incidentally, a new landscape survey on the circuit has calculated its length at 13,626 metres, 3 metres shorter than the previous distance.
Changes at the Le Mans circuit – the perpetually evolving site
During the race, the marshals will use new luminous boards connected to Race Control. Work crews have also developed the service access roads to some of the marshal posts. No fewer than 266 trees have been planted, the 8,000 sq. m area accommodating the new Fan Zone has been equipped with free WiFi, and a new Total gantry will soon appear at Mulsanne Corner.
Lucky number in our family: 2⃣4️⃣!
We live 24, we sleep 24, we eat 24…what about you ?
? Less than 24 days before the #LeMans24 start ? pic.twitter.com/fEu2j64v9Q

— 24 Hours of Le Mans (@24hoursoflemans) May 23, 2018