After moving into fourth place in the Constructors' Championship at the last round, Renault heads to the legendary Monaco Grand Prix, as Engine Technical Director Rémi Taffin explains what's required from the power unit side to take on the famous streets.
We showed a good level of performance in qualifying and we had a strong race, most notably with a positive start. We have been fighting at the top end in the fourth place battle, and we have Renault engines in fourth and fifth in the midfield. After five races, being fourth is reflecting that step forward we expected this season. The Spanish Grand Prix showed the same level of performance we saw during the first four races. We got Carlos [Sainz] into Q3, but unfortunately not Nico, but we know the reasons why for this.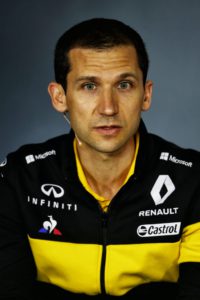 And were the fuel updates we saw in Spain everything we expected?
The implementation of the new fuel was very well managed. The performance was there and we experienced no problems at all. It was a good step forward.
Does Monaco present a different regime for the engine?
When we get to Monaco, we don't want to be changing anything from the last five races. The most important thing for a driver in Monaco is to have confidence in how the engine will behave. Of course, we want to build on our performance, but consistency and predictability is very beneficial at such a unique and challenging circuit. We need to pay attention to how the engine delivers its performance in Monaco because of the low-speed corners and low revs. We will be looking after that, but we are prepared.
We're targeting double-points at every race, what's the key to ensure that?
We have over 1000 people working across Enstone and Viry, developing a car that is capable of scoring points at every race. Then it's about making sure we have the specification to get to the end of each race. When we are at the track, we aim to optimise what we have, every single thing. We have the package to score points at every race, so we need to rely on people; the drivers, the engineers, mechanics to make sure we are proficient in every area.
What can we expect from the imminent engine upgrade?
Race seven, the Canadian Grand Prix, is where we will introduce a fresh engine taking advantage of some upgrades. I hope the gains match our expectations; we're looking forward to seeing this in action.
Have you seen the brand new extra tall #MonacoGP garages yet? Well now you have. You're welcome. ?#RSspirit pic.twitter.com/Zf0BEHl19T

— Renault Sport F1 (@RenaultSportF1) May 21, 2018