Williams confirmed the team's Official Young Driver, Oliver Rowland, will drive at next month's in-season test in Hungary. Alongside him will be Williams' Reserve & Development Driver, Robert Kubica.
Oliver tested with the team for the first time earlier this year when he drove the FW41 on Day 1 of the Barcelona in-season test, before handing over to Robert on Day 2. The test will take place immediately after July's Hungarian Grand Prix, on 31 July – 1 August.
Oliver Rowland will drive on Day 1 before Robert Kubica takes over on Day 2
"It's another step in the right direction of achieving my goal of being in F1", commented Oliver. "Everything went very well at the test in Barcelona and it's nice to know they're giving me another chance and have trust in me."
"I'm aware that you don't get many opportunities to show your talent in F1. It's a pretty exclusive club so I tried to do a good job. The test went well, and I tried to be mature about my approach. Feedback and consistency was the aim rather than worrying about lap times straight away, but we got the times down pretty quickly. We need a bit of work at the moment to get the team's performance back to where we should be, so, rather than trying to be a hero, it was important to give the engineers exactly what they wanted."
"I'm just delighted to have the opportunity again. It was a dream come true for me in Barcelona and I would like to thank Williams and my team at Blackcastle Sport for giving me this second chance. I will continue to do my very best to help push our performance in the right direction."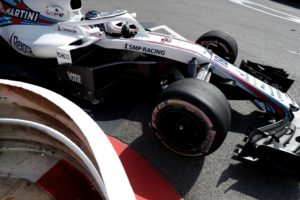 Meanwhile, the team is off to Canada for round seven of the 2018 Formula One World Championship. Montreal holds fond memories for Williams, not least because it's Lance Stroll's home race. But also because it's the scene of his debut points-scoring finish in his rookie season last year. Starting 17th on the grid, Stroll recovered from a disappointing start to the weekend to take ninth at the chequered flag in front of his home crowd. Sergey Sirotkin, meanwhile, makes his first appearance at Montreal, having never previously driven the Circuit Gilles-Villeneuve.
"We are all looking forward to returning to the fantastic city of Montreal"
"It is a very different track to Monaco, much faster with some very long straights. And so we generally lean towards running lower downforce levels on the cars. It is also tough on the power unit and brakes. In other respects, however, it has some interesting similarities to Monaco with some low-speed corners, a low grip surface and it is difficult to get temperature into the tyres", Paddy Lowe said.
"We once again have the hypersoft as our qualifying tyre, which is a great tyre for grip, but it gives us some challenges with endurance during the race. As a team, we didn't exploit the stronger potential we had in the car in Monaco due to some very unfortunate errors, but we have regrouped and will be back in Canada with the aim of doing our very best to get good results on both sides of the garage."
There will be a grandstand for Stroll's fans at the circuit this year.
We take a ride on board the FW08C @thruxtonracing ?

Williams Heritage Driver @karunchandhok is behind the wheel for the demonstration run during Thruxton's 50th Anniversary Celebration weekend ?? pic.twitter.com/PD6GmoUqKA

— WILLIAMS RACING (@WilliamsRacing) June 5, 2018