Jean-Karl Vernay completed a memorable weekend for the WTCR – FIA World Touring Car Cup presented by OSCARO with victory in the third of three races at Zandvoort. 110,000 fans followed the action, including Dutch Formula One star Max Verstappen.
Overnight Audi Sport Leopard Lukoil Team changed the engine in Vernay's car following his fifth-place finish in Race 1 on Sunday. Vernay had a penalty and started Race 2 from the back of the grid. But he repaid his team's hard work by claiming the DHL Pole Position for Race 3 on Monday morning. And then converted his top start spot into a victory later in the day.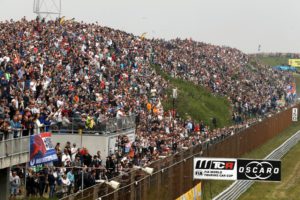 He took his maiden victory in Race 2 to become the eighth different winner of 2018 following a brilliant drive.
Comte, in a DG Sport Compétition Peugeot 308TCR, was second in Race 1 ahead of Rob Huff and Gordon Shedden but went one better in Race 2 by beating James Thompson's Honda Civic Type R TCR off the line in the reverse-grid counter. It means five customer racing brands have now won in WTCR OSCARO. Ehrlacher finished second after team-mate Thompson handed him the place to boost his title bid.
"Yesterday I did a very good start to manage to be P2 and it was already a very good result for the team and for myself. Today I did the same, a very good start and I took the lead at the first corner. In some parts, James was quicker than him but I managed my pace to the end of the race. I knew there was some pressure but I really wasn't thinking about the pressure. I was just leading the race and trying to go to the end", Comte commented.
Hard work pays off ?? great race Aurelien Comte & @DGSportCompet ?? pic.twitter.com/1bYx8XiqS5

— FIA WTCR / Oscaro (@FIA_WTCR) May 21, 2018
Huff was back on the podium in Race 3
He took his Sébastien Loeb Racing Volkswagen Golf GTI TCR to second place ahead of Frédéric Vervisch, who hit back from a double driveshaft failure to claim the third spot for Audi Sport Team Comtoyou.
Ehrlacher, the TAG Heuer Most Valuable Driver of the event and TAG Heuer Best Lap Trophy recipient for his rapid lap in Race 1, now heads the drivers' championship by nine points over Yvan Muller, his uncle and the most successful driver in touring car history. But while Ehrlacher celebrated, Muller endured a weekend to forget. He was unable to match the early-season pace following adjustments to the Balance of Performance. Muller's YMR team also faced a lengthy repair job to get the veteran racer back on track for Race 2 after he came off worse in a collision with Norbert Michelisz.
Dutch WTCR regular Tom Coronel scored a weekend-high of seventh in Race 1
Pepe Oriola settled for fourth in Race 2 ahead of Mehdi Bennani. Esteban Guerrieri battled through to fourth in Race 3 with Shedden fifth. Wildcard Prince Bernhard van Oranje completed all three races.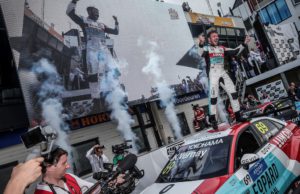 "It was a great day, I was really motivated after what happened yesterday. Changing engines is not always nice, we knew we would have one race down and I was the only driver until this morning to score points in every race. But I said to my crew 'don't worry, we're going to make pole and we're going to win'. And we made it and this is pretty cool. The team did a great effort all night to rebuild the car, to have a good car ready for qualifying."
"After that, I just did my job. I was pretty confident, the balance of the car was good and I just tried to push", Vernay said
WINNER ??? @JkVernay ?? #WTCR #JumboRacedagen pic.twitter.com/1bLN0PGoAD

— FIA WTCR / Oscaro (@FIA_WTCR) May 21, 2018