Carlos Sainz is aiming to make it three points-scoring finishes in a row in Monaco, a track which requires a gentle and meticulous approach.
What do you like about racing in Monaco?
It's always a good feeling going to Monaco, and that excitement ramps up to another level on the Grand Prix weekend. You can't drive around Monaco like you do at any other circuit. It's unique and requires a completely different approach to any other weekend. You are constantly aware of the walls and you have to keep concentration levels high on every corner of every lap through the weekend.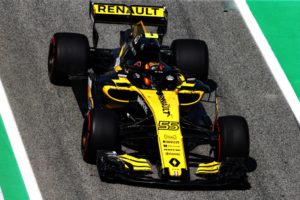 Confidence in yourself, and in your car, is key to a successful weekend. You build that confidence up in little steps, all the way up to qualifying when you aim to be at 100%. Qualifying is crucial in Monaco, and it's usually very tense. I would say it's one of the toughest sessions of the whole season, if not the toughest and you need to carry that extra level of determination for it. When you nail your qualifying lap at this track, there isn't any feeling like it, it's amazing.
What else do you get up to in Monaco?
Even away from the racing, it's a totally different weekend. For instance, we'll use a scooter to go from the hotel to the track, which is cool. It's a really unique weekend in every way. The glitz and glamour are unique, there are stunning sportscars everywhere and lots of impressive yachts in the harbour making the atmosphere a real thrill.
You must be pleased with back-to-back points-scoring finishes?
Barcelona was another good result but it would be a huge mistake to lose focus. We're confident our approach is the correct one and we're making good progress. It's about continuing on this trend and keeping up the hard work. After Barcelona, the team climbed up to fourth in the Championship and the target is to consolidate that position in Monaco with more points.
ICYMI: @Carlossainz55 had his own (and very #yellow ?) grandstand at his Home Grand Prix, the #SpanishGP. Here's a little video of his visit to his fans. Enjoy!#RSspirit pic.twitter.com/OzV7TBKqdu

— Renault Sport F1 (@RenaultSportF1) May 18, 2018