Movistar Yamaha MotoGP's Valentino Rossi showed once again you should never count him out for the race, regardless of his starting position. He displayed a competitive pace aboard his YZR-M1 throughout the entire Grand Prix de France, to take a strong third place on the podium. Maverick Viñales scored solid points with a seventh position result at the end of a challenging weekend and took over second place in the championship standings.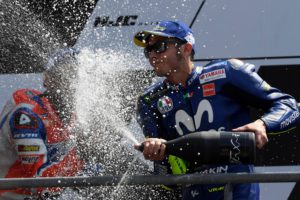 Rossi had a brilliant start, rushing from ninth to sixth place in the first corners
An early faller moved the Italian up another spot as he settled into the leading group. He subsequently lost a place to Danilo Petrucci but moved back up to fifth when Andrea Dovizioso crashed out of the lead.
Johann Zarco also fell victim to a lack of grip, allowing Rossi up to fourth. The Doctor could smell a podium result and picked up the pace, soon taking third position from Jorge Lorenzo. He set a provisional fastest race lap of 1:31.426min with 13 laps to go, eager to close the gap to Petrucci and kick off a fight for second place, but the Yamaha-rider wasn't able to get close enough. He crossed the line in third place, 5.350s from the front.
A round of applause for the Doctor. You completely deserved that 3rd place!#MovistarYamaha | #MotoGP | #FrenchGP | @ValeYellow46 | @MotoGP pic.twitter.com/totIFrf8Sc

— Yamaha MotoGP (@YamahaMotoGP) May 20, 2018
"I was feeling quite pessimistic after qualifying, but we made two or three modifications to the balance of the bike that gave me more grip and also made me lose less in acceleration. Already in the warm up, I was not so bad, so I thought "I can do a good race", but starting from the third row is always difficult. You have to stay concentrated, but I had a great start and right from the first lap I was able to overtake. I was in the right group. The other positive thing was that after that lap I was fast, I did good lap times and I had a good pace, this is very important."
"I hope that we can continue to work strongly, to further improve the bike", Rossi commented
"The positive thing that I was fast, I did a good lap time and I have a good pace, this is very important" – @ValeYellow46 #VR46 takes third in Le Mans ➡️ https://t.co/BHuQ90ZRAW pic.twitter.com/gH8MsJofyF

— MotoGP™??? (@MotoGP) May 20, 2018
Viñales struggled to match the pace at the start of the 27 lap race
Despite that, he never gave up and earned some valuable championship points.
"This was not the race I hoped for when I arrived here in Le Mans. It took me quite some time to get past a few rivals and when I arrived in seventh place the gap to the riders in front of me was too big. It's disappointing that I couldn't fight at the front, and this is something we need to keep working on, but I did move up to second in the championship standings. This means we need to stay focused and keep working hard, starting at the test in Montmeló. I can't wait to go there so we can try to make another step before the next GP", Viñales said.
Viñales' seventh place moves him up to second position in the championship standings with 59 points, 3 points ahead of teammate Rossi, who climbed up to fourth position
The solid results keep Yamaha in second place in the Constructor Championship with a 28-point margin to first, while the Movistar Yamaha MotoGP Team dropped to second position in the team standings and now have a 9-point gap to the top.