M-Sport Ford World Rally Team's EcoBoost-powered Ford Fiesta WRCs secured a double podium at Rally de Portugal – Elfyn Evans and Teemu Suninen claiming second and third places respectively.
Both drivers proved their ability to fight for the top positions. Evans got his first top-three result of the year while Suninen took his maiden podium less than 12 months after getting behind the wheel of the top-specification Fiesta.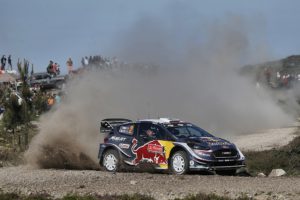 It was the first podium for Elfyn Evans and Daniel Barritt of the year
The Brits posted three fastest stage times whilst giving the notoriously difficult stages the respect they deserved. Evans will now focus on further gains behind the wheel of his EcoBoost-powered Ford Fiesta WRC.
"I'm happy with this result, and a bit relieved too if I'm honest! Everyone knows that our season didn't get off to the best of starts. Monte started well with the exception of the puncture. But one thing led to another and it quickly snowballed into what was becoming a pretty dismal season", Evans admitted.
"We knew coming here that we needed to get some strong points on the board – for the team and for us as well. So to come away with second place was good. It wasn't perfect, and there are some areas where we can still improve. I wasn't entirely happy with my driving through all of the stages. But it's certainly alleviated the pressure and we can go to Sardinia in a positive frame of mind."
THE BOYS ARE BACK: @ElfynEvans and @danielbarritt secure second place @rallydeportugal ? #WRC #FordPerformance #RallydePortugal pic.twitter.com/1216PmhDEu

— M-Sport (@MSportLtd) May 20, 2018
Teemu Suninen claimed his first podium
Guided through the stages by compatriot co-driver Mikko Markkula, the pairing piloted their EcoBoost-powered Ford Fiesta WRC to third place overall.
With previous knowledge of the Portuguese stages, Suninen was free to push and did not disappoint. Regularly outperforming his more experienced rivals, the young Finn pushed hard – a series of consistently strong drives including the fastest time through the penultimate speed test.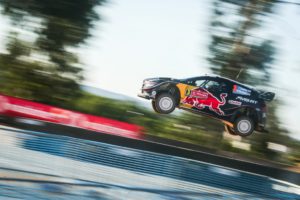 "It's really great to get my first podium in Portugal – the first one is always special and I think it will be a big step for my career. I was really happy with my driving all weekend. We struggled a bit to find the limit on Friday morning as I had to get used to driving this car on these stages, but after that, I was able to push and set some really good times", Suninen commented.
"I want to thank the team for their trust in me and for the good support that they gave me all weekend. I'm really happy that I could pay them back with these good points for the championship."
Probably you do not see me too often as happy as I have been today holding my trophy which I got after finishing third in @rallydeportugal! What a great feeling. Already at the airport now, heading back to Finland. pic.twitter.com/GI9LEh7GuH

— Teemu Suninen Racing (@TeemuSuninenRac) May 20, 2018