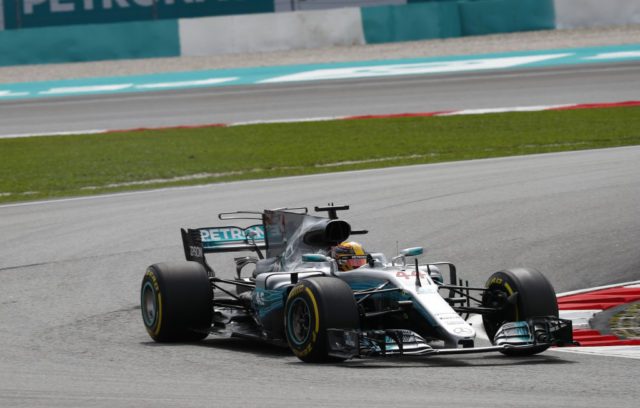 Lewis Hamilton pipped Kimi Räikkönen to pole position for the Malaysian Grand Prix in Sepang, taking full advantage of title rival Sebastian Vettel's engine issues, which left him without a lap time and at the back of the grid. Mercedes struggled relative to Ferrari and Red Bull through practice at Sepang, but turned the situation around in qualifying, at least on Hamilton's side.
Hamilton, having reverted to a previous aero spec, as Bottas continued with the new version, found the speed required in the decisive Q3 phase to grab pole. Hamilton's first lap (1:30.076) proved marginally quick enough; as he failed to improve on his second run, the sole Ferrari of Räikkönen got within half a tenth.
Max Verstappen, celebrating his 20th birthday, also improved on his last lap to edge out Red Bull team-mate Daniel Ricciardo, with Bottas fifth in the other Mercedes.
Vettel, Friday's pace-setter, should have been involved in the frontrunning fight, but had to take on a new power unit elements after an "electronic malfunction" in final practice.
Vettel made it out early in Q1, running a new Internal Combustion Engine and MGU-H. But he soon reported a loss of power, explaining that it "feels like I have no turbo". Ferrari looked set to send Vettel back out after checks, but called it off, leaving him without a lap time and at the back of the grid for Sunday's Grand Prix.
VET: "It's part of motor racing. It's not ideal, especially on a day when you feel you have the right car. It's a shame for us" #MalaysiaGP pic.twitter.com/uhHXl69rTx

— Formula 1 (@F1) September 30, 2017
Esteban Ocon was one of the stars of qualifying, jumping a handful of rivals as Q3 developed to take sixth. He is 3 places ahead of Force India team-mate Sergio Pérez. Stoffel Vandoorne also got the better of his more experienced team-mate, Fernando Alonso. Nico Hülkenberg and the aforementioned Pérez were slotting between them.
Williams and Toro Rosso lost both of its cars at the Q2 phase. Felipe Massa and rookie Lance Stroll taking 11th and 12th. Formula 1 debutant Pierre Gasly started qualifying ahead of Carlos Sainz Jr. by placing eighth in Q1. But he was narrowly out-qualified to 14th in Q2.
INITIAL CLASSIFICATION (END OF QUALIFYING): Confirmation of an incredible turnaround by @LewisHamilton #MalaysiaGP ?? #Quali #F1 pic.twitter.com/ENum47cARD
— Formula 1 (@F1) September 30, 2017