The Spanish Grand prix is the fifth round of the 2018 Formula 1 world championship.
Total number of race laps: 66
Complete race distance: 307.104 kilometres (190.826 miles)
Pit lane speed limit: 80 kph (50 mph)
This 4.655-kilometer (2.892-mile), 16-turn circuit has hosted Formula One since 1991, with last year's Spanish Grand Prix serving as the venue's 27th grand prix.
The #SpanishGP had an incredible run of ten races without a repeat winner

2016 – VER
2015 – ROS
2014 – HAM
2013 – ALO
2012 – MAL
2011 – VET
2010 – WEB
2009 – BUT
2008 – RAI
2007 – MAS

But @LewisHamilton ended the run last time out #F1FastFact pic.twitter.com/z5ff1D16xh

— Formula 1 (@F1) May 6, 2018
Kimi Raikkonen holds the race lap record at Circuit de Barcelona – Catalunya (1:21.670), set in 2008 with Scuderia Ferrari.
Lewis Hamilton holds the qualifying lap record at Circuit de Barcelona – Catalunya (1:19.149), set last year with Mercedes. However, the fastest unofficial lap belongs to Scuderia Ferrari driver Sebastian Vettel, who turned a lap of 1:17.182 on March 8 during the penultimate day of pre-season testing.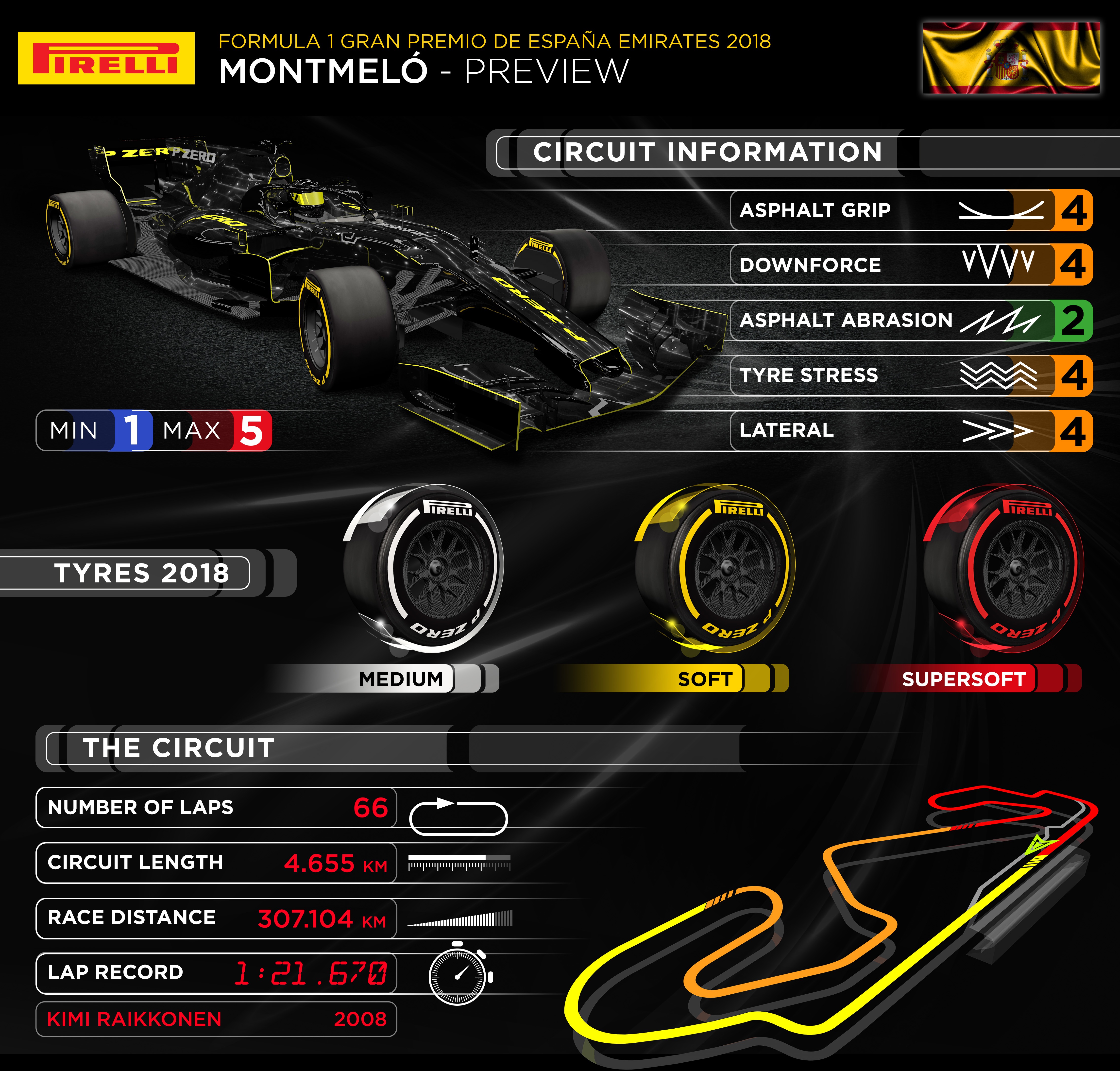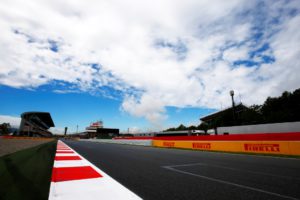 The Circuit de Barcelona – Catalunya is considered to be very representative of all the tracks Formula One visits, making it an ideal facility for testing
The track has only two sub-100 kph (60 mph) turns, and the layout's mix of medium- and high-speed corners allows teams to gauge their car's aerodynamic efficiency. Teams spent two weeks at the circuit prior to the start of the season, testing Feb. 26-March 1 and March 6-9. However, familiarity does not lessen the challenge for teams and their drivers. The track's mix of corners makes for a physically and mechanically demanding race.
DYK? The Circuit de Barcelona – Catalunya is one of four Formula One locations with ties to the Olympics. The venue was the site of the start/finish line for the road team time trial cycling event when Barcelona hosted the 1992 Summer Olympics. Sochi, site of the Russian Grand Prix, hosted the 2014 Winter Olympics. The backstraight at the Circuit Gilles Villeneuve in Montreal runs adjacent to the Olympic rowing basin used during the 1976 Summer Olympics. And the Magdalena Mixhuca Sports City, in which the Autodromo Hermanos Rodriguez is located, hosted numerous events during the 1968 Summer Olympics in Mexico City.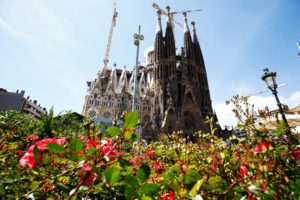 During the course of the Spanish Grand Prix in Barcelona, lows will range from 12-14 degrees Celsius (54-58 degrees Fahrenheit) to highs of 19-21 degrees Celsius (66-70 degrees Fahrenheit)
Relative humidity ranges from 56 percent (mildly humid) to 92 percent (very humid), with a dewpoint varying from 7 degrees Celsius/45 degrees Fahrenheit (dry) to 17 degrees Celsius/62 degrees Fahrenheit (mildly humid). The dew point is rarely below 3 degrees Celsius/38 degrees Fahrenheit (dry) or above 19 degrees Celsius/67 degrees Fahrenheit (muggy). Typical wind speeds vary from 0 kph/0 mph to 24 kph/15 mph (calm to moderate breeze), rarely exceeding 34 kph/21 mph (fresh breeze).
Focus points Gaining a quick understanding of the car and the conditions. The teams had eight days of winter testing at the Circuit de Catalunya, but the weather was unrepresentative. Snow, rain and single-digit temperatures resulted in little meaningful performance testing, which gives the teams little relevant data going into this weekend.
Most demanding section Turns One, Two and Three. Turns One and Two are deceptively fast, taken at 180km/h (112mph), and many drivers hit the inside kerbs to help rotate the car and aid direction change. Turn Three is a breathtakingly fast right-hander, through which the cars accelerate to 285km/h (177mph) at the exit.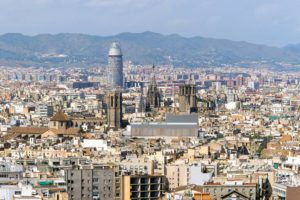 Unique difficulty Barcelona has an eclectic mix of corners, and that is the circuit's unique difficulty
Sectors One and Two are high-speed, through which aerodynamic efficiency is crucial; Sector Three is all about slow-speed mechanical grip. To be fast, a car needs to work in every type of corner.
Braking There are eight braking events around the lap, but only two significant stops – into Turns One and 10. Turn One is the most severe corner for the brakes, with the cars scrubbing off 215km/h (134mph) in just 100m/0.0621 miles, which subjects the drivers to 5.6g.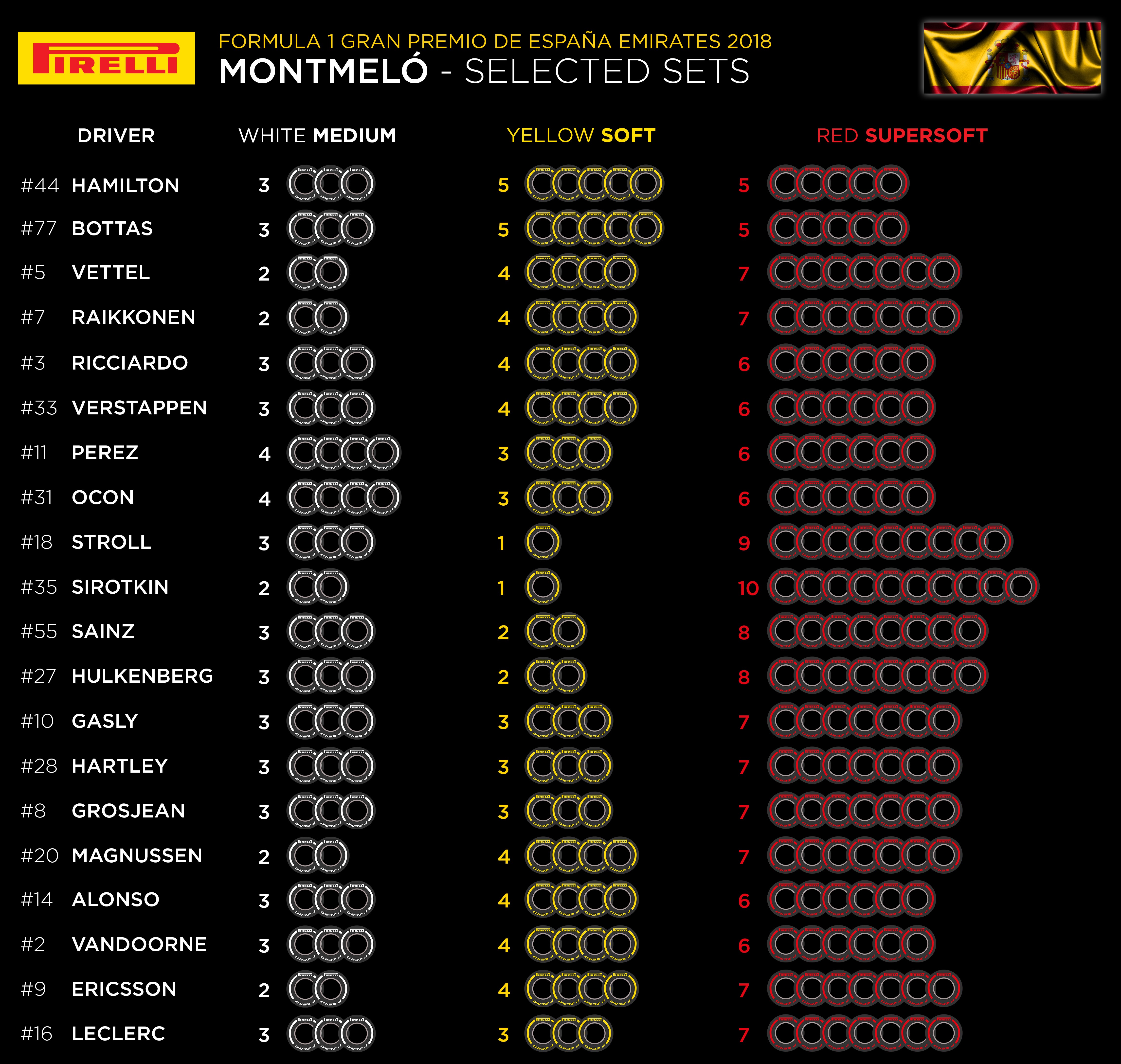 Power The cars use 1.7kg of fuel per lap, which is average for the season. It's quite a demanding race for the ERS as well because there are two long periods of full deployment.
Aero After running a low downforce configuration in Baku, it's back to maximum downforce in Barcelona. The eclectic mix of corners, particularly the slow-speed chicanes in Sector Three, mean the best lap times are achieved by maximising cornering performance.
?? #SpanishGP multiple wins by constructor ?

1⃣2⃣ @ScuderiaFerrari ?
8⃣ @McLarenF1
7⃣ @WilliamsRacing
6⃣ Team Lotus
3⃣ @redbullracing
3⃣ @MercedesAMGF1#F1FastFact pic.twitter.com/7pWk3f5GSI

— Formula 1 (@F1) May 8, 2018