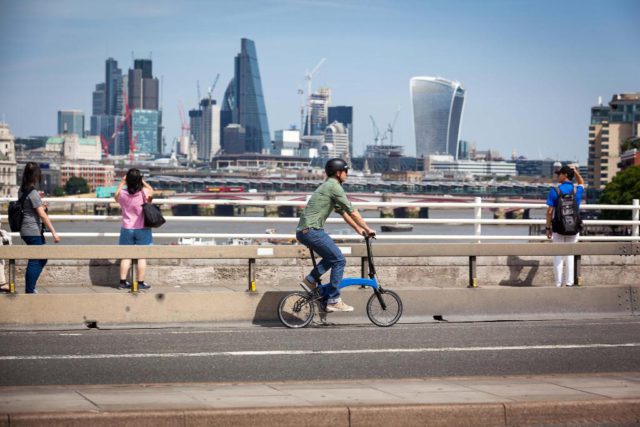 The Hummingbird Bike, engineered by Prodrive, is the world's lightest folding bike and is now on sale. The bike has been in development for more than 18 months and is the British motorsport and advanced technology group's first venture into cycling.
The Hummingbird sets new standards in both the design and engineering of folding bikes. It weighs just 6.9 kg and has a unique three-step folding mechanism, which allows the bike to fold just five seconds – also making it the world's 'fastest' folding bike.
At 6.9 kg, the bike is around 3 kg lighter than any comparable folding bike on the market. Central to this is a lightweight carbon frame. It comes from the hands of the people in Prodrive Composites in Milton Keynes. And it gives the bike its distinctive styling, very different to any other bike in the world.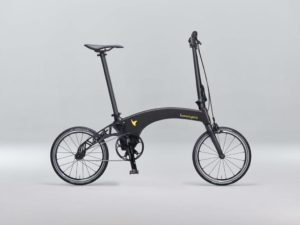 The Hummingbird is the brain-child by Petre Craciun, a London-based designer and keen cyclist. He found that existing folding bikes on the market were heavy and unattractive. So Craciun decided to design his own. He approached Prodrive at the beginning of 2016 to refine the bike, optimise its ride and handling, and create the carbon frame so that it could be produced in volume and sold globally.
Prodrive's engineers carried out a rigorous design and development process using the latest computer aided design and analysis software, to optimise the bike's rigidity while minimising weight, the same approach it takes with all its race and rally car. This ensured the bike passed all the ISO bicycle safety tests at the first attempt.
Each bike is hand-built at Prodrive's headquarters by the M40 at Banbury. Each frame has an individual number and is available in four colours. A visual carbon frame is also available with the herringbone carbon weave laid up precisely and lacquered to give a perfect finish.
The Hummingbird comes as a single or four-speed option. An electric boosted option currently undergoing evaluation. It should be available in 2018.
Our engineers are passionate about every little detail on Hummingbird. Here they are adding the name – meticulously applied decals ? pic.twitter.com/4KygezqbKr

— Hummingbird Bike (@HummingbirdBike) August 22, 2017
Petre Craciun, Hummingbird's designer, said:
"Since buying my first BMX bike at the age of 14, I've become more and more obsessed with the idea of going everywhere freely. It was this desire to remove the restraints of other more cumbersome folding bikes that sparked the idea to design a transportable option. Hummingbird's functionality, coupled with its eye-catching design, makes it the stand-out product for the sophisticated commuter."
David Richards, chairman of Prodrive, added:
"Hummingbird combines all the key attributes of technical excellence that Prodrive stands for. But this is just the beginning. As with all the projects we work on with our clients in the motorsport, automotive, marine and aerospace sectors, we will be constantly striving to find new ways to innovate for the cycling industry."
You can have your Hummingbird in 4 gorgeous colours… or you can get yourself the Carbon Edition. Which one is your favourite? pic.twitter.com/CpfjCYvaLX

— Hummingbird Bike (@HummingbirdBike) August 14, 2017