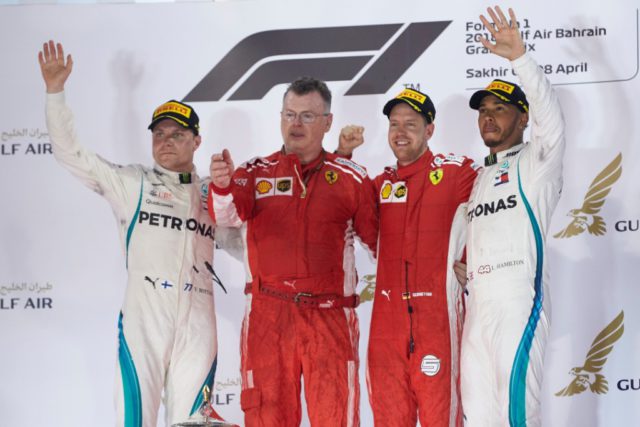 Ferrari dedicated its Bahrain victory to its mechanic Francesco who suffered a broken leg during Kimi Raikkonen's botched second pitstop. The team got a Euro 50 000 fine from the stewards of the meeting. Sebastian Vettel won the race at the Sakhir circuit.
Apparently a shinbone and fibula fracture, our thoughts are with Francesco, stay strong #BahrainGP

— Scuderia Ferrari (@ScuderiaFerrari) April 8, 2018
"This win for Sebastian is confirmation of the great job done by the team, of an effective car and of a driver who drove like a true champion right to the very end. It was a shame for Kimi, who would have completed a fine result for the team. We chose to take one of our mechanics up onto the podium as a mark of respect to our colleague Francesco who was injured during the pit stop. The whole team hopes he recovers quickly. We are already preparing for the next race in China and as usual, we will give it our all", team principal Maurizio Arrivabene said.
Vettel admitted his radio call about 10 laps from the finish line that he had control of the situation was a total lie
"Obviously, this is a great way to start the season and it wasn't expected. Australia was a different race and if you compare these two races, here we had the pace and won on our own. So, I think it's been much better, but it was a very tough race. It took a while for the adrenaline to go, but for the next week, we are not sure where we are going to be. It is difficult to predict with everything changing so much. In China, it will be a different track and a different challenge, but we have to improve our car and work on it", Vettel explained.
"We still need to improve the balance. However, if we should have a similar feeling like here, then I think we should be in a good shape. We were losing a little bit at the end and [Valtteri] Bottas was getting closer. We couldn't wait and see what he was doing. So, in response to that, we had to come in first to protect the track as much as I could. We had targeted two stops and that's why we had chosen Soft tires. But then we had to change strategy; the tires were already wearing out, but then it seemed everything was ok. But after 10 or 12 laps, the tires got worse and the last five laps were very tricky."
"It feels better winning here than in Australia because here we had the pace. So, I am very happy, even though it's sad to see one of our guys getting injured. I wish him to get well soon, I know he's in very good hands now."
So – drivers don't *always* tell the truth on team radio… ? ? ?@ScuderiaFerrari #BahrainGP #F1 pic.twitter.com/3c8qwdp68q

— Formula 1 (@F1) April 9, 2018
Raikkonen said he was very sorry for his mechanic
"What happened to our guy Francesco today at the pit-stop is very unfortunate. I feel sorry for him and hope he's going to be OK soon. It's always a bad thing when someone gets injured but I am sure he has the best people taking good care of him and I wish him a speedy recovery", the Finn commented.
"As for the accident itself, all I know is that I moved when I saw the green light go on. I couldn't have possibly realized that there was an issue with the rear left wheel, then I saw someone had got hurt and, immediately, I was told to stop by the team. Unfortunately, something must have gone wrong and we'll need to find out what. The car had good speed today but I had some wheelspin at the start. Anyway, there's not much I can do now but wait for the next race, where we'll try to do our best."