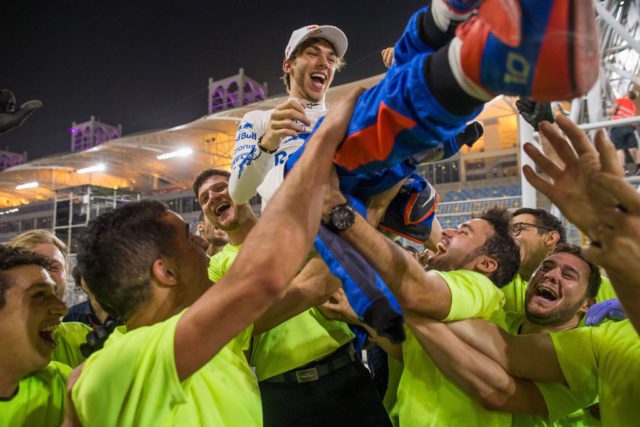 A pulsating Bahrain Grand prix came to a close with Pierre Gasly launching himself onto the F1 scene in style by guiding his STR13 to fourth place. The 22-year-old Frenchman said after qualifying in sixth that he wanted to score good points in the race and he did just that by securing Scuderia Toro Rosso's best position since Carlos Sainz Jr finished fourth in Singapore in September 2017.
Gasly, from just outside Rouen, has been on the Red Bull Driver training programme since 2013
He is in his first full season behind the wheel of an F1 car. His drive was the best result by a Honda-powered car since 2008.
"Unbelievable, what an incredible day! The second race of the season with Toro Rosso and Honda, and we finished P4. It's just amazing, I'm so happy! A big thanks to the team because the car was fantastic! I had a nice fight with [Kevin] Magnussen and the pace was really good. I saw, unfortunately, both Red Bull cars had to stop, then after Raikkonen retired the team told me we had the opportunity to finish P4, so I gave everything to the end", commented a highly enthusiastic Gasly.
"The car has been fantastic since the beginning of the weekend"
"I could just push flat out and the pace was great because I managed to pull away from the Haas. I need a bit of time to let this sink in, but we will definitely enjoy it with the team tonight! The start of the race was mega – I managed to overtake [Daniel] Ricciardo in Turn 1 which was great, after that it got a bit tricky when Magnussen overtook me in Turn 1, I knew I had to overtake him straight back because I would lose time and it would be difficult to catch him afterwards. Once I passed, I managed to keep him behind and push flat out while I was trying to manage the tyres, which we did pretty well. I think the pace was great so I'm just super happy."
P4, no words.. First points in Formula 1. Amazing weekend! Massive congrats to @ToroRosso & @Honda ! pic.twitter.com/rlDJZAUOR3

— Pierre Gasly ?? (@PierreGASLY) April 8, 2018
"I don't know what to say, I'm just super happy about today"

A memorable day for @PierreGASLY #BahrainGP ?? #F1 pic.twitter.com/O1T9a5XkFK

— Formula 1 (@F1) April 8, 2018
His teammate Brendon Hartley was 17th in the standings after a 30second penalty for an infringement during the formation lap
"An amazing day for Toro Rosso but a disappointing day for me. I had a good start and first couple of corners but had a small contact with Perez in Turn 4. This not only damaged my front wing for the remainder of the race but I was also given a 10 second time penalty. We had the pace to be comfortably in the points without the penalty so it was a bit frustrating. A big thanks to all at Toro Rosso and at Honda, it has been an amazing turn around since Melbourne which bodes well for the next few races", the New Zealander said.
Franz Tost pointed out that Toro Rosso had a new aero package in Bahrain on Gasly's car
"Generally speaking, we are very happy with this result", he continued. "To finish in fourth position in the second race of the year is really a very positive sign from Honda and from Red Bull Toro Rosso side. I'm quite confident that we have what we need to keep this level of performance – maybe not finishing fourth all the time because we mustn't forget that [Max] Verstappen and Ricciardo didn't finish the race – but nevertheless I'm convinced that points are possible in all of the races."
"I want to thank the Research & Development department of Honda in Sakura, they did a fantastic job during the winter months significantly improving the performance, as well as the reliability, and the result is that we are now fighting for front positions. Thank you also to the aero department in Bicester, they really did a good job because all of the upgrades worked as expected. Congratulations to Honda and the team for the great job.
Honda F1 Technical Director Toyoharu Tanabe added:
"In the two weeks since our difficulties at the Australian Grand Prix, everyone in the team, at the track and back in the UK and Japan, has worked very hard and this nice result is a well-deserved reward for all our efforts. We feel we have made some progress, improving our reliability and it is also clear that the aero updates introduced here worked really well. We can enjoy this moment for a few hours, but as from Monday, it's time to focus on the next round in Shanghai."