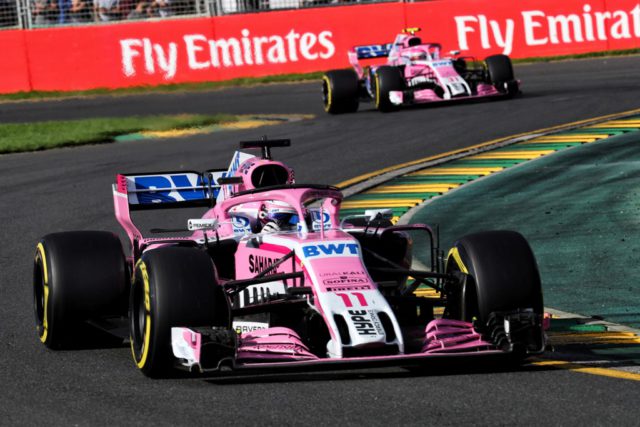 Sergio Perez believes Force India will soon be in a position to battle for points. The team had a difficult first race weekend from the 2018 Formula 1 championship. Neither the Mexican driver nor his teammate Esteban Ocon could get in the top 10 – they finished 11th and 12th.
The pace of the car was also worse than expected but still, Perez found positives from the Melbourne weekend
"I was pushing throughout the whole race and especially chasing [Carlos] Sainz in the final laps. I got really close to him, but it wasn't enough. Overtaking in Melbourne is very difficult – you could see the same with [Valtteri] Bottas who couldn't pass me during the first stint. The Virtual Safety Car also didn't help us at all, but that's just how things go sometimes", Perez said.
"I am still happy with my performance and the job we did as a team. We will need to move on and keep improving, but I believe we will soon be in a position to battle for points. Hopefully, our improvements will come as early as Bahrain. It's a race where you can overtake and strategy plays a bigger part compared to Melbourne."
First race of the season… I liked the big effort made by all the team. We'll continue working hard to be able to fight for big points very soon. #Checo11 ? by @jamesmoy ? pic.twitter.com/zgo5NVqaOZ

— Sergio Pérez (@SChecoPerez) March 25, 2018
Ocon also pointed out the difficulty in overtaking though he managed to get in front of Lance Stroll on the first lap
"Then everybody quickly spread out until the safety car. I had a fight with Bottas for a while and after the safety car restart, I was close to making a move on Sergio. We certainly had better race pace compared to our qualifying pace, but we are just missing some performance to be up there in the top ten at the moment. Things can turn around quickly in Formula One and we will keep pushing over the next two weeks to bring something extra to Bahrain", Ocon added.
Tough week end with no points for the team today, we leave Australia with plenty understood and we can only do better from here?! #EO31
Un week end difficile sans point pour nous cette fois, mais nous partons d'ici avec beaucoup de choses comprises et on ne peut que remonter !? pic.twitter.com/sPJWSy9RD9

— Esteban Ocon (@OconEsteban) March 25, 2018
Deputy team principal Robert Fernley summarized that the team ultimately did not have the pace to fight in the top 10.
"It's early days in the season and with twenty races to go there will be plenty of opportunities to develop this car and show our strengths. We're on a learning curve and there's more in the pipeline for Bahrain. We will work hard to be stronger at the next race in Bahrain", Fernley said.