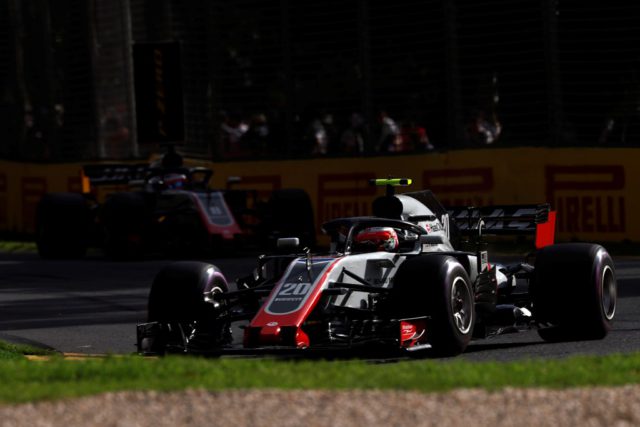 The Haas team had a really heart-breaking Australian Grand prix as both drivers Romain Grosjean and Kevin Magnussen retired after highly promising runs for a great part of the race.
Magnussen qualified sixth at Albert Park to equal the American squad's best qualifying effort to date. Grosjean was behind his teammate in seventh, and with Red Bull's Daniel Ricciardo incurring a three-spot grid penalty, the Haas duo moved up to fifth and sixth, locking out the third row.
At the start, Magnussen grabbed fourth place from Max Verstappen as he deftly overtook the Red Bull driver on the outside of turn one. Then he held the spot as they motored off the corner and into turn two. Grosjean, meanwhile, held steady in sixth.
Verstappen pursued Magnussen, but on lap 10 that pursuit sent Verstappen spinning off turn one. Magnussen drove away while Grosjean picked up the position, putting the Haas drivers fourth and fifth with 48 laps to go.
The pressure from Red Bull was still on, however, as Verstappen's teammate, Ricciardo, was sixth, right in the tire tracks of Grosjean.
Soon, it was time for pit stops. Ferrari's Kimi Raikkönen opened the pit window when he stopped for service on lap 18. Magnussen pitted for a new set of Red supersofts on lap 22. But as he headed down the pit lane and ventured back onto the track, a frantic radio call came from the pits to Magnussen. "Stop the car! Stop the car immediately!" It was a loose wheel. Magnussen's day was over.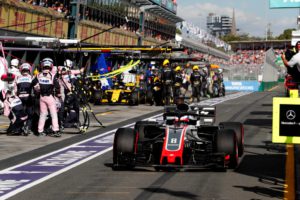 Grosjean pitted two laps later, as he also needed to exchange his ultrasofts for a new set of supersofts. Then a case of déjà vu after the stop, as a loose wheel forced him to stop on the racetrack. Later the team received a fine from the stewards – 5000 euros for each infringement (releasing the cars from a pit stop in an unsafe condition).
"We had a good car all weekend. I was happy with our low- and high-fuel pace. I had great pace [in the race], and I'm sure I could have stayed a bit more with the frontrunners if I'd been in front of Kevin early in the race. We'll now analyze everything and work out what happened exactly. We'll come back stronger as we always do. It's a lot of points lost today, but if we can repeat that performance over and over, we're going to forget this very quickly", Grosjean said.
Nice touch, @RGrosjean ?#AusGP @HaasF1Team ?? pic.twitter.com/kmgm5M8mht

— Formula 1 (@F1) March 25, 2018
Kevin Magnussen added what happened was very tough to swallow for the whole team.
"To have both cars not finishing – having been in such good positions and with so much anticipation – it's just heartbreaking to finish like that. We'll get on top again. We'll fight back. I'm beyond disappointed right now, but we'll get over it", the Dane commented.
Not their day ? #AusGP #F1 pic.twitter.com/KfIvyYAzlx

— Formula 1 (@F1) March 25, 2018
Team principal Guenther Steiner also said it was a disappointing weekend for a very promising weekend.
"We had two failures on the pit stops – didn't tie the wheels on correctly, so we had to stop the cars. As much as you don't want to say it, it's racing. It happens, even though it shouldn't. It's almost unbelievable to have this in one race, and on two cars while running fourth and fifth. It's very disappointing. The good thing we can take away from this is that the car is competitive. We just need to get our heads up again, to get well prepared for Bahrain. We'll focus on that one and get our pit stops sorted out", Steiner explained.
Team ???? pic.twitter.com/SUZYPlP9ai

— Kevin Magnussen (@KevinMagnussen) March 26, 2018