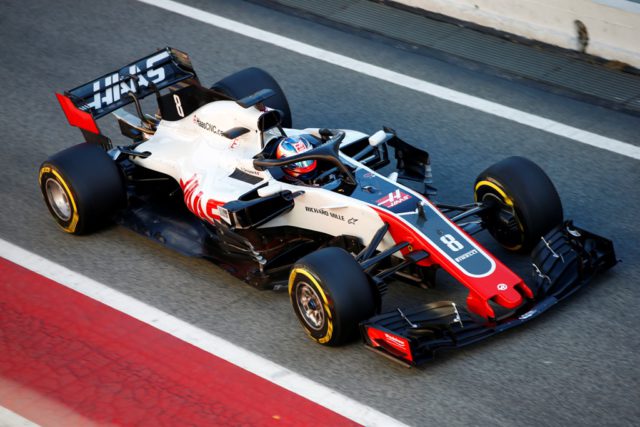 It's a different kind of Australian Open as the 2018 FIA Formula One World Championship heads to the land down under for the season-opening Australian Grand Prix March 25 at Melbourne Grand Prix Circuit. While the championship battle will be waged among the big-three teams of Mercedes, Scuderia Ferrari and Red Bull, the ultra-competitive midfield is wide open. Seven teams consisting of Haas F1 Team, Force India, Williams, Renault, Toro Rosso, McLaren and Sauber appear to be on relatively equal footing as the 21-race season kicks off on the 5.303-kilometer (3.295-mile), 16-turn street course inside the city's Albert Park. Haas enters its third Formula One season and seeks a serving of points in this Australian Open. Team principal Guenther Steiner explains what the challenges are.
In 2016, Haas F1 Team was starting from scratch, and that had its own unique challenges. To get ready for 2017, you had to race your 2016 car while simultaneously developing your 2017 car. It's what every Formula One team does, but that was Haas F1 Team's first time doing so. But considering how every team improved for 2018 and none seemed handicapped in terms of engine and chassis design, do you envision 2018 being Haas F1 Team's most challenging season yet?
"Every season, or at least just before the start, is the most challenging, as you don't know what you're going to be in for. You don't know how strong the opposition is. It's always a challenge, but there's not one more than the other. It's always a big challenge every year."
Haas F1 Team tested at Circuit de Barcelona – Catalunya for eight days over a 12-day span. How did it go and how did it prepare you for Australia?
"Normally, you can get well prepared, as you should when you have eight days of testing. This year, unfortunately, due to the weather, we only had five clear days of testing. Then again, it's the same for everybody. So, you get as best prepared as you can."
This way ? to the #AusGP! pic.twitter.com/Y1ByqcW4H9

— Haas F1 Team (@HaasF1Team) March 16, 2018
Did testing provide a glimpse of where Haas F1 Team stacks up to the competition, or will it only be known after a handful of races?
"I would say we'll know the potential of the car after qualifying in Australia. After the test, we can say we're in the midfield, and hopefully in the top half of the midfield. I think we are cautiously optimistic."
The weather in Barcelona impacted the amount of time you got on the racetrack. While it was the same for everyone, how did it impact your planning and the data you wanted to acquire?
"We just changed the test plan for the second week."
You've said that this year's car is an evolution of last year's car, with the intent being to make it more consistent. Whether it was with aero balance or mechanical balance, do you feel you achieved the kind of consistency you were looking for?
"Yes, I would say the guys did a very good job on aero and design to get a car that is better balanced than the 2017 car. Then again, we'll only see in Australia how it stacks up against the other cars."
While everyone seemed to have an opinion about the halo as each team introduced its new car, by the end of the test it all seemed pretty normal. Was it much ado about nothing, or did the higher centre of gravity and change in aerodynamics force you to work on different areas of the car?
"Everybody works in the same area, and when you have a change like this, there is specific work that needs to be done. In the beginning, you make big gains, but then the gains get smaller and smaller the more you develop."
There wasn't much talk about brakes during testing. How much of a relief was that, and what did you do to find a brake package that suits both drivers?
"You just use your experience and see what other people are running. You get in contact with the suppliers and develop your own package. It looks like most of that problem is sorted if not all. Again, we haven't done a race with it, so I'm still a little bit cautious."
Obviously, a lot was learned at Barcelona, but there wasn't much time between when the cars arrived back at the factory before they had to leave again for Australia. What did you do to make the most of that time?
"It's all planned out. On test number two you run chassis number two. Chassis number one goes back to the factory to be repainted after a week of testing. Then the mechanics go back and assemble it. The staff in the background work to get all the parts and pieces together, to assemble the cars, and refurbish the test car."
With Haas F1 Team's third season-opener now upon us, how has the preparation for this year differed from last year? Has it been somewhat easier from the standpoint that both the technical regulations stayed relatively the same and your driver lineup stayed the same?
"I wouldn't say it's been easier. You don't want to make the job easier. You want to get as much as you can out of what you've got. In the first years, it was just getting it all done. It's complex, but once we got our processes better, we just wanted to do more, and that meant better work, which got us a faster car and allowed us to perform."
Reliability is always important, but how crucial is it early in the season, and especially at the first race, where you can capitalize on another team's teething problems as opposed to when we're deeper into the season and teams have a pretty good handle on their race cars?
"Reliability is already important at the test. If your car is reliable, you can gather a lot of data and you get better prepared for the first race. Reliability is fundamental to a good car."
Beyond points, what would you like to achieve in Australia that you can take with you to Bahrain and future Grands prix?
"Double points is always the best finish. Getting into Q3 with both cars, that is our aim this year because then, anything can happen."
#Goals ?@RGrosjean and @KevinMagnussen talk 2018. pic.twitter.com/giMRVMQxRw

— Haas F1 Team (@HaasF1Team) March 19, 2018