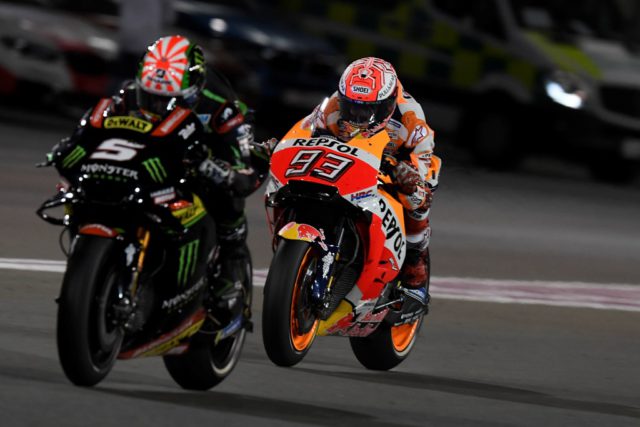 Marc Marquez climbed to the second step of the podium at the Losail International Circuit after fighting for victory all the way until the last corner. Andrea Dovizioso just edged the Honda driver out at the chequered flag by a mere 0.027" but the reigning World Champion came back to Europe knowing that he's shown great pace and scored a brilliant result at a track that is notoriously tough for him and the Repsol Honda Team.
"What a race! I'm really happy with our second place finish because this is one of the tracks on the calendar where we struggle most", Marquez commented.
"After the pre-season test, we knew what we could expect. With the hard front tyre I was struggling a bit in the left corners but with the medium, I wouldn't have finished the race. I tried to pass Dovi in the last corner but he beat me. Honestly, I was expecting that, but I had to try the move anyway, to see if there was any way we could make it happen."
"In the end, Dovi had something more than me and he deserves this win. Even if he was a bit behind at the start, I was waiting for him – I was waiting for the red! I knew his tactic was to push at the end and when he passed [Johann] Zarco I said to myself, 'let's go!' I followed him and almost went wide, but it was a great race and a great show. The thing I'm most happy about is that this time, we were able to stay with him on the straight and this is very good."
With the world/motorsport getting more and more conscious about health and safety and a risk averse mindset… @MotoGP is incredibly positioned imo going forward… sensational display of man and machine in that gladiatorial mode… keep and raw and real guys..? https://t.co/xxODdfHrhN

— Mark Webber (@AussieGrit) March 20, 2018
Marquez climbed to the second step of the podium at Losail after fighting for victory all the way until the last corner
A group of seven riders, split by just over one second, fought for a podium position for almost the entire race. Dani Pedrosa was among that group, although a poor feeling with the rear tyre forced him to settle for seventh.
"In general, the bike worked well enough and I'm happy because we were able to improve our feeling over the weekend. The hard front tyre was actually a very good choice as I could brake hard into the corners and keep a decent pace. We focused a lot on the feeling from the front over the weekend and finally decided to go with what we'd worked toward", Pedrosa explained.
"I had a good start and I'm happy with how I managed the first corners. Unfortunately, the feeling from the rear wasn't as strong. The tyre was spinning a lot, which caused me to lose ground in turn 3 and some other corners in sector four. It's a real shame because the first race is important and if I think that I didn't have this issue I could've fought for the podium. In the end, that gives me confidence for the upcoming races."