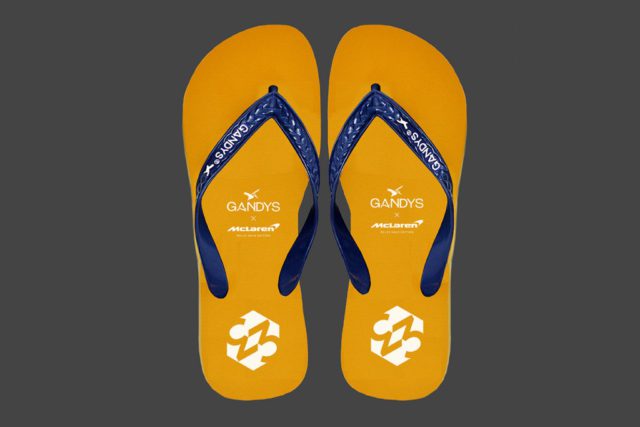 McLaren has teamed up with adventurous British lifestyle brand Gandys for next week's Australian Grand prix. Brothers Rob and Paul Forkan founded Gandys after tragically losing both their parents in the Tsunami that affected much of southeast Asia in December 2004.
The Gandys brand began with a single flip-flop design. Its initial success enabling Rob and Paul to achieve their goal and open the first Orphans For Orphans foundation kid's campus. That happened in Sri Lanka in 2014.
Alongside their charitable foundation, the Gandys brothers have continued to grow the brand since its inception in 2012. Gandys introduced full menswear and womenswear collections to the brand in 2016, and continue to support Orphans For Orphans by donating 10 percent of their profits to the foundation. The second campus opened last year in Malawi, with plans to open more across the world.
Now, for the Australian Grand Prix, Gandys branding will feature on both McLaren cars. Gandys will become the first brand to take advantage of the unique shape of the new Halo cockpit protection structure. It has frequently been compared to the distinctive upper of a flip-flop.
@F1 #Halo #flipflop pic.twitter.com/TNZMg3JeX5

— LP87 (@Derbestetweet) March 4, 2018
Additionally, Gandys and McLaren will collaborate to create a limited-run 'Halo-edition' flip-flop, with 100 percent of all profits going directly to the Orphans For Orphans foundation. They will be available from gandyslondon.com and all Gandys' London stores, as well as through mclarenstore.com.
"The placement of the logo, on the MCL33's Halo, was not only perfect from a branding perspective, but also a great opportunity to underline Gandys' charitable commitment to providing a safer, more protective environment for those at risk", McLaren Chief Marketing Officer John Allert said.
McLaren creates a limited edition Halo flip-flops with new partner Gandys
Gandys co-founder Rob Forkan said the company was absolutely thrilled when McLaren came to them with the idea. He also explained that when the brand was created, his brother Paul was living in Melbourne.
"I went out to surprise him on his birthday to tell him about the idea for Gandys. After managing to persuade him to return to the UK and start the brand, it's really exciting to be going back. In fact, it will be the first time we've return to Melbourne. So it's great to feel we have come full circle!", Rob added.
"When we started Gandys we started working on a small scale, helping a few children. Now we are helping more and more vulnerable children all around the world. We hope the halo will have a similar impact in Formula 1, as we know that even if it only saves one life, to begin with, it will go on to have a wider impact."
"On a personal note, as huge fans of Formula 1 and McLaren, this was an opportunity that was simply too good to pass up. We can't wait to see Fernando [Alonso], Stoffel [Vandoorne] and the whole team in action in Melbourne next weekend."