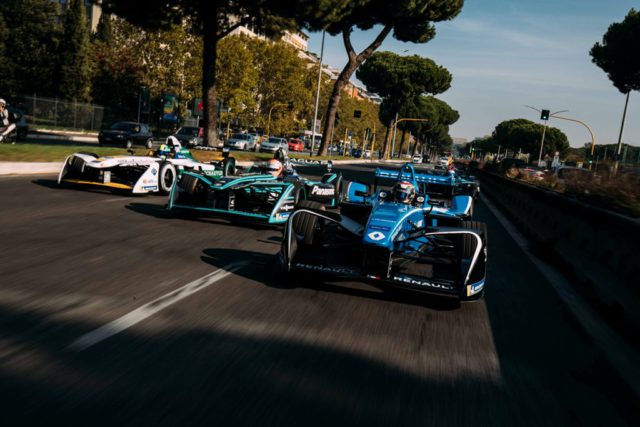 Hugo Boss joins Formula E as the first Official Apparel Partner of the fully electric automotive series.
The new partnership will focus on the shared values synonymous with motorsport and a winning mentality that goes with it – dynamism, perfection and precision.
Hugo Boss, a world-renowned name and one of the leading players in the global fashion market, will design and develop outfits specifically for Formula E series management, employees and volunteers – offering both style and practicality in the heat of close competition.
Formula E will be dressed with a race winning mentality from season four with our new Official Apparel Partner, @HUGOBOSS! pic.twitter.com/RGKCWVB2QN

— FIA Formula E (@FIAFormulaE) November 13, 2017
The unique collaboration will see Hugo Boss add a new strand to its DNA, utilising its 35-years of experience and expertise in the motorsport arena to best represent the newly-launched Formula E brand identity for season four.
The Boss brand will appear on the official outfits as well as on the Formula E demo car and championship delivery. It will be also trackside on the streets of some of the world's leading cities.
A first glimpse of the new partnership will come at an exclusive event on December 1 ahead of the season-opener in Hong Kong. Round one and two of the 2017/18 FIA Formula E Championship will take place there on December 2-3.
Alejandro Agag, Founder & CEO of Formula E, said: "I'm delighted to welcome yet another global brand to the Formula E family, especially a respected and recognisable name in the world of fashion such as Hugo Boss. This new partnership will see the team on the ground at each race dressed with a winning mindset and ready to deliver a spectacular event in cities across the world."
Hugo Boss will design and develop outfits specifically for the Formula E series
Hugo Boss Chief Executive Officer, Mark Langer, said:
"As a fashion brand, we are always looking at innovative approaches to design and sustainability. When we first encountered Formula E, we immediately saw its potential and we are pleased to be the first apparel partner to support this exciting new motorsport series."
Dynamism, precision, perfection: the values that inspire our new partnership with #FormulaE, the electric street racing series #BOSSsports pic.twitter.com/zGBUpadsNP

— HUGO BOSS (@HUGOBOSS) November 13, 2017
The German fashion designer Hugo Ferdinand Boss is the founder of Hugo Boss AG
He created the luxury fashion house in 1924. Its headquarters are Metzingen, Germany. Originally the company focussed on uniforms, while later produced work clothing, sportswear, raincoats. After World War II and Hugo Boss' death in 1948, it started focussing on men's suits.
The company went public in 1985 and introduced a fragrance line that same year. Then it added men's and womenswear diffusion lines in 1997. A full women's collection followed in 2000 as well as children's clothing in 2008/2009. Since then it has evolved into a major global fashion house with more than 1,100 company-owned retail stores worldwide (2016).
The luxury fashion house worked with McLaren in Formula for more than 30 years. Since 2015 it was a partner of the Mercedes team before deciding to switch to a new automotive series. According to Langer Formula E is a better platform for the brand than F1.