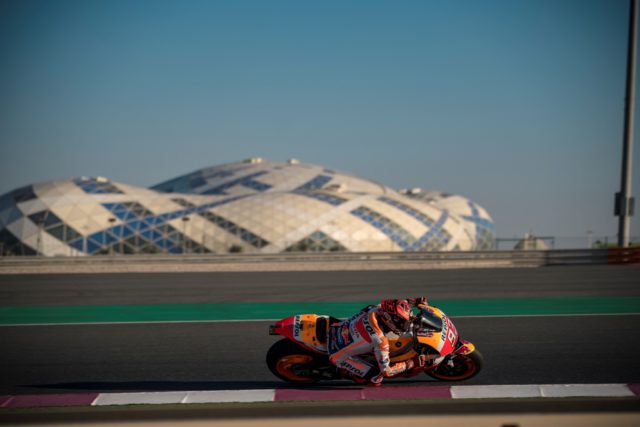 Marc Marquez and Dani Pedrosa are looking forward to kicking off their sixth and 13th MotoGP racing season, respectively
Marquez will tackle the opening round in Qatar as the defending MotoGP World Champion
He has 2 wins in Qatar (MotoGP: 2014 – Moto2: 2012). Marc also has additional 3 podiums (MotoGP: 3rd in 2013 and 2016 – 125cc: 3rd in 2010.
"I'm really excited that the first race to has finally arrived. It looks like it'll be a very competitive season, starting from the first race here in Qatar. Having tested here so recently, we know there are several riders who are already very fast, within only 2-3 hundredths, so the race could be exciting and anything can happen on Sunday", Marc Marquez said.
"We've also worked well during the winter tests and now we look forward to getting started. The Qatar round is a unique one compared to the others on the calendar, and we're aware that it's not one of the easiest for us. Still, during the test, we focused on trying to get as close as possible to the pace of our opponents on used tyres, and at the moment we're not that far off. It will be a long season and we'll continue working on our bike's setup to try and make the best of every situation on race day."
Pedrosa will reach the important milestone of 200 starts in the MotoGP class
He has 6 podiums (MotoGP: 2nd in 2012 and 3rd in 2007, 2008, 2011 and 2014 – 250cc: 2nd in 2004).
"We arrive at the first race in Qatar after an intense pre-season that saw us do a lot of work. It looks like this is going to be a very competitive year, with many candidates for the podium. Riders have been very competitive, as have the manufacturers. Therefore, more than ever we have to focus on our side of the garage in order to perform our best starting with the first race. I feel ready for this year's challenge and so do my team. I'm really looking forward to getting on my bike on Friday!", Pedrosa commented.
.@marcmarquez93 and @26_danipedrosa are looking forward to kicking off their sixth and 13th @MotoGP racing season, respectively, all of which have been raced with the #RepsolHondaTeam! #QatarGP @losailcircuit pic.twitter.com/X9gEnMcbM0

— Repsol Honda Team (@HRC_MotoGP) March 13, 2018