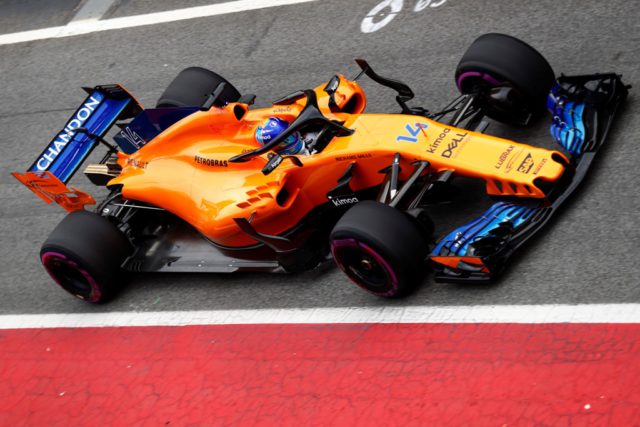 McLaren had a very positive and productive last day of running from the first 2018 Formula 1 pre-season test. Track conditions started very wet from heavy rain overnight. That made early-morning running tricky and meant a slower-than-usual start to the programme. As the track dried out Stoffel Vandoorne was able to quickly and efficiently run through a comprehensive test plan. The program included key correlation, component and aero tests that necessitated all-important mileage.
As the track was kept green throughout the traditional lunch break, Stoffel continued consistent running into the mid-afternoon. Then the team handed the reins over to Fernando Alonso. This way he had the opportunity to make up for some of the lost track time due to bad weather.
Stoffel completed a solid 110 laps and posted the second-fastest time of the day. Fernando did 51 laps and finished fifth on the timesheets. That brought McLaren's total for the final day of test one to 161 laps.
"We completed a lot of mileage and got a good understanding of the car", Vandoorne commented
"It feels good to get a good amount of laps on the board after we missed out a bit over the past few days. When the track started to dry I did some very good running and completed a lot of set-up changes, trying to understand our package and how everything works together, and the feeling was positive."
"I finished [the day] with 110 laps and it's been a long time since we've been able to do this. We had time to put Fernando in the car too for the final part of the session, so altogether a very productive day."
McLaren had a very positive and productive last day of running from the first 2018 Formula 1 pre-season test
Alonso was very happy with the whole Thursday
"The car ran perfectly all day. We did some interesting runs with some set-up changes, and we keep discovering more about the new package each time, especially with the integration of the Renault engine that was previously unknown for us", the Spaniard said.
"It was a very productive day for all of us and I'd like to say well done to everyone for working hard to get through a very full and comprehensive test programme."
Racing director Eric Boullier also explained that it was very positive to run reliably all day long
"We had some small glitches in the first two days which caused us to lose a disproportionate amount of track time, and the weather didn't help any of us, but everything fell into place", he continued.
"I'm happy we've finally been able to run a full test programme [on Thursday] and follow our plan, which has given us some solid data and feedback from the factory. Being 'winter world champions' on the timesheets is not of interest to us – the important things are mileage and learning – and today we're very satisfied with what we have managed to achieve."
"Recovering mileage was our top priority in order to get back on schedule, and now we can regroup and use the data we've gathered to redefine our test programme for next week. Now we have the initial test programme done and under our belt, the objectives for test two are running a race distance and practising pitstops – we're giving the latter more focus and new equipment this year, so that will be the key."
With the first test of the year wrapped up, hear how Fernando & Stoff ended the week on a high. ? pic.twitter.com/RjFoebJJSL

— McLaren (@McLarenF1) March 1, 2018