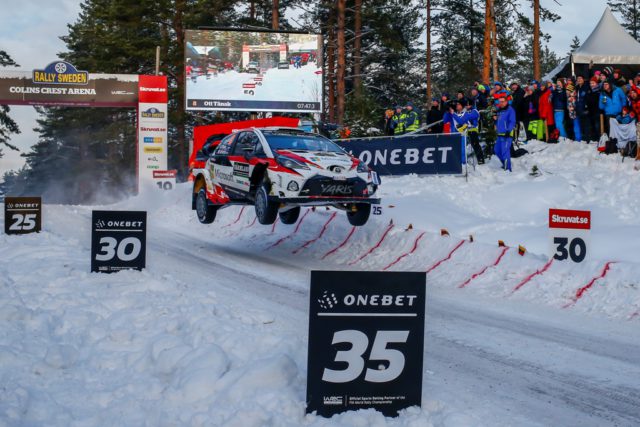 Toyota had a challenging Rally Sweden but the team's three crews managed to take positions in the top 10. Esapekka Lappi was fourth while his teammates Jari-Matti Latvala and Ott Tanak took seventh and ninth respectively. Lappi won the power stage which meant additional points. "Generally the performance of the car and the drivers have been good [in Sweden] but the conditions were sometimes a bit unequal", Team principal Tommi Mäkinen referring to the starting order which proved crucial for reaching success or failure in the second 2018 WRC round.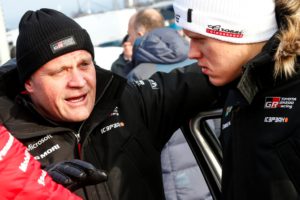 "Hopefully something can be done so the conditions are fairer for all the drivers in future. Esapekka was very quick [on the last day] to gain two positions and win the Power Stage. It has been a good rally for him and without one little mistake, he could have been fighting for the highest position on the podium. We must not forget it was his first time on snow in a WRC car and next year I'm sure he will be even stronger."
Lappi expressed content with his performance and added he was really happy for the team
"At least we got some kind of good result from the weekend. It means I'm not so disappointed anymore about what happened to me on Friday. It's so easy to make a mistake. Overall the whole rally was quite strong. I wasn't expecting this kind of speed from my side, so I'm really looking forward to coming back here next year", Esapekka commented.
flat-out-small-talk ? Full SS18 Onboard (Stage Win 21.19 km in 11:15.0 min.) @EsapekkaLappi / @Veermi : https://t.co/xEy0h73r4j #WRC @TGR_WRC @Michelin_Sport @AnonimoWatches ? watch all Onboard Videos on https://t.co/twccZ0hRvh pic.twitter.com/Cwl2jKeopk

— WRC (@OfficialWRC) February 27, 2018
Latvala said the weekend in Sweden was very difficult for him
"We just lost so much time on the first day with our high starting position in the fresh snow and the heavy ruts", he continued. "We changed the transmission for the final day and this improved the feeling compared to Saturday. The team did a very good job and the car was handling very well. It is both quick and reliable and that is important."
The best pictures of our weekend in Sweden are here! Want to see more? Go to my Facebook page or my website : https://t.co/BIgb5ti36S @AtWorldMA #WRC #TGR_WRC pic.twitter.com/GkmXjTDre2

— Jari-Matti Latvala (@JariMattiWRC) February 20, 2018
Tänak also had a tough rally
"On Friday we faced some bad conditions and couldn't have done much more. On Saturday our road position was slightly better, the pace was better as a result and we could win quite a few stages. Then on Sunday when the conditions were in our favour we could do some more good times. This was my first rally in the Toyota Yaris WRC with a gravel-style setup and we have learned a lot of things", the Estonian said.