There was practically no practice during the third day of the first 2018 Formula 1 pre-season test. The weather was bad, it was snowing and the circuit was damp. The snow stopped in the late afternoon.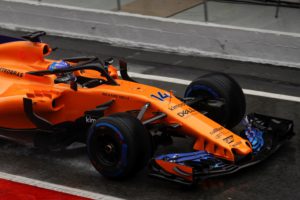 Only a handful of drivers made installation laps. Fernando Alonso had 11 laps and was the only one who recorded time. Daniel Ricciardo and Brendon Hartley had 2 laps each while Marcus Ericsson and Robert Kubica made 1 each.
"It's good to be the car with the most laps on the board today! We all know that timesheets in winter testing are not very relevant, but it's always nice to be at the top.
"The poor weather conditions made things difficult all day long – we even had snow – so it was definitely not a normal day of testing and many people decided not to run. We still had some checks to do on the car as it's very early days for us with this new package, and we are learning things with every lap. We opted to do some background checks this morning in the garage – maybe not crucial to the car's performance, but still good learning for us.
"In the few laps we did at the end of the day we managed to collect some good data for future development, so even with the little running we could complete, the information we got is very positive. I'm happy that despite a difficult day of testing for everyone, we made the best of it", Alonso commented.
There was practically no practice during the third day of the first 2018 Formula 1 pre-season test
Car also competitive in wet, P1 in the afternoon and more laps than anyone today. ? #irony pic.twitter.com/bCLKQWa8W2

— Fernando Alonso (@alo_oficial) February 28, 2018
The whole morning was lost as the medical helicopter could not take off. The practice started officially at noon but there was no action.
"Today was a frustrating day because we didn't get anything in. There's always plenty to do, but you try to come here to make progress with your car and to learn something. We obviously didn't achieve that today. A cold weather front like this is not usual for this time of year. Sometimes these things just happen. We have to live with it and try to do our best, but it makes it a long day", Haas team principal Guenther Steiner commented.
Teams anticipate a slight reprieve from these treacherous conditions on Thursday, where the weather forecast calls for sun in the morning with slightly warmer temperatures before rain returns late in the afternoon.
— McLaren (@McLarenF1) February 28, 2018